Chris Brown Reportedly Called Cops On Woman Stalking Him At His House
She has allegedly been spotted at least 10 times on the street near his gate.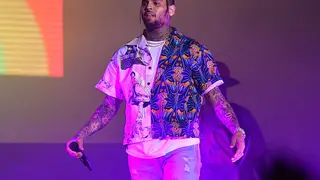 Los Angeles police are reportedly monitoring a possible stalking situation at Chris Brown's San Fernando Valley home.
Citing LAPD sources, TMZ reports that the police department received a call about two weeks ago about a woman who showed up at the singer's house and refused to leave. When the cops arrived, she disappeared.
Before the call, she was repeatedly popping up at his home. She has been seen at least 10 times near Brown's gate.
Two days after the incident, she was suspected of calling the cops with a bogus request for them to visit Brown's home to conduct a welfare check on him.
Just a week ago, the singer's security team contacted the police to report that the same woman returned and got into a shouting match with them.
This isn't the first time that Brown has had to deal with a potential stalker. The New York Daily News reported in 2016 that a fan named Danielle Patti was arrested for trespassing on the singer's property after she refused to leave.