Brooklyn Restaurant Denies Claims Of Plotting To Paint Over Rapper Sean Price's Mural
The 43-year-old rapper passed away in 2015.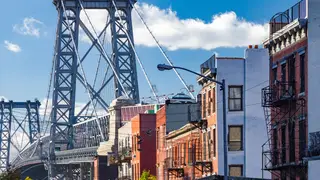 On August 8, 2015, fans were devastated when rapper Sean Price passed away in his sleep at the age of 43.
As one-half of the legendary duo Heltah Skeltah, it is no surprise fans paid homage to the rapper—known for his 2013 critically acclaimed album Mic Tyson—with a stunning mural in Crown Heights.
Now, a Twitter user is claiming the yet to open Brooklyn restaurant, Meat, is on a mission to paint over the mural.
"The owner of a newly opened Brooklyn restaurant called Meat, across the street from the Sean Price mural on Kingston Ave is trying to have the wall painted over," the user wrote on Twitter about the restaurant that doesn't open until next month.
"Claims the mural is disturbing attention to his business. Spread the word. We need to keep @seanprice's legacy alive."
Shocked, many began to speculated that the accusations were proof of more gentrification.
However, the restaurant is reportedly denying the claim, according to another user who stated they reached out to Meat via Instagram.
"The building you are referring to has nothing to do with us. We do not own the building and do not paint over other people's buildings. We are extremely disturbed by the evil rumors that are nothing but slander," they responded via IG direct message.
Although the restaurant's name wasn't mentioned, a Facebook post by Sean's widow Bernadette Price on July 10, had many distressed.
"So apparently a owner across Kingston ave wants to paint over Sean's Mural. The Artist who painted it caught the other painter painting over the other painting that's next to Sean's. He stated the he was told to paint over it claiming that it's a disturbing the attention next to his restaurant which is ACROSS the street. This can't happen."
With the rapper's death anniversary less than a month away, we hope the allegations are not true.