Black Faces In High Places: How to Reach The Top As A Black Professional And Stay There
"What are you doing to knock down barriers and create pathways for those on the same journey? If you aren't doing that, then you're not doing what needs to be done."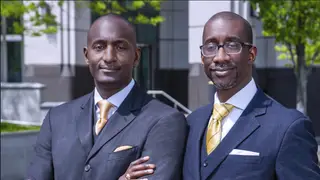 In their 2010 book, Black Faces in White Places, Dr. Randal Pinkett and Dr. Jeffery Robinson wrote about "the game'— the hyper-competitive world in which Black people live and work. Over a decade later, they found themselves writing Black Faces in High Places, a book informing Black professionals how to reach high positions and stay there.
Dr. Pinkett and Dr. Robinson have had a foothold in the corporate world for over a decade. Pinkett is an author, speaker, entrepreneur, and media personality who was the first African American to win the show The Apprentice. Robinson is an award-winning professor, international speaker, and entrepreneur.
BET.com sat down with Dr. Pinkett and Dr. Robinson to discuss the book and its meaning.
BET.com: What was the most important reason for authoring this book?
Dr. Robinson: We've matured since we authored our last book, Black Faces in White Places. Times were looking up back then, the economy was getting better, Obama had been elected as president and Black people were making strides in many fields. We were trying to help Black professionals navigate and "play the game." We didn't think our book would increase in relevance as years went on, but after the election in 2016, things became worse for Black Americans.
Black Faces in High Places was written to help Black Americans and professionals figure out the next phase of their careers and navigate the hierarchies of the organizations they worked for. People asked us how they can navigate their workplaces as the only Black person, what do they do once they get to these high-ranked positions, and how do they stay there?
BET.com: Who was your target audience for Black Faces in High Places and why did you write this book for them?
Dr. Pinkett: Our target audience is mid-career professionals and late-stage professionals who are aspiring and targeting to reach leadership positions and how to get there and stay there. Our book is often assumed to only target corporate professionals. While they are among the targets, we want to also reach entrepreneurs, educators, those in the faith-based community, and non-profit professionals looking to run community-based organizations. In fact, we interviewed and profiled individuals across all these sectors. We strived to make the ten strategic actions that the book profiles relevant across many sectors.
BET.com: How were you able to get such successful people to contribute to the book: First Lady Michelle Obama, Oprah Winfrey, Bob Johnson, Ursula Burns, and Angela Glover Blackwell?
Dr. Robinson: Some people we interviewed directly and there were others with enough public information available that it was easy to research. I give credit to my brother and co-author, Dr. Pinkett, who cultivated great relationships with people like Bob Johnson and Cathy Hughes. Other people we met and crossed paths with along our journey — like Cory Booker. We all worked in New Jersey in the early 2000s and he was also a Rhodes Scholar, like Dr. Pinkett.
Dr. Pinkett: It all boils down to relationships. Dr. Robinson and I are members of Alpha Phi Alpha Fraternity Incorporated, so there's a pattern of members from our fraternity being interviewed. We relied on direct relationships, fraternal relationships, and other relationships made during our travels and geographical proximity. When we authored our last book, we were working our way toward the top. Now as we have ascended to becoming Black faces in high places, those we consider our peers have ascended to high places with us. We have known many of these folks for many years.
BET.com: What is the most recurring piece of advice you received from those you interviewed?
Dr. Robinson: They all had mentors! An interesting story is that Cathy Hughes' mentor was the legendary John Johnson from Ebony Magazine. Everyone we profiled, who held top-level positions, had a mentor(s) who were really engaged in their development. We highlight mentoring in our ten strategic actions because it's a theme that was important for everyone's rise to the top.
Dr. Pinkett: Mentors were essential to breaking through barriers of top positions. Many people we interviewed informed us that their mentors named them as predecessors years before the person took hold of their top leadership position. Their mentors were intentional about their succession and signaled them as future leaders early on in their careers. That is an important part of them becoming Black faces in high places.
BET.com: Do you think it's important for successful Black professionals to continue to maximize on mentors as they climb the ladder or become mentors? When does that transition need to happen in your eyes?
Dr. Robinson: What we see as we talk to Black professionals, especially as they move up in organizations and companies, is that they're all mentoring other people. But, when we ask if they are getting mentored by a professional at least two tiers above them, only a few people agree.
What happens to many mid-level Black professionals is that they give more than they receive. An imbalance exists between moving up through a profession and receiving mentoring. We always tell mid-level professionals to have someone a couple of tiers above you as your mentor, so your chances of moving up in your organization do not decrease.
Dr. Pinkett: We did a lot of research to prepare to author this book. One of the research studies we cited is by David Thomas, former Harvard professor and current president of Morehouse College. He studied the experiences of minorities in corporate America and compared minorities who became executives versus minorities who plateaued as managers. He found that minority executives had up to five times more mentors on average than those who plateaued.
BET.com: How do we keep the momentum of diversity, equity, and inclusion within large powerful companies and organizations, that sometimes can use diversity and inclusion for profit?
Dr. Robinson: You have the murder of George Floyd, but then we have the reactions of Black CEOs and leaders who used their platforms and power to speak out. Sometimes people speak about Black faces in high places in negative ways and focus on the things they are not doing. But we found Black people in high places who were doing important things that have positive impacts on the Black community.
Dr. Pinkett: This question speaks to why we opened the book with a retelling of the murder of George Floyd juxtaposed against how Black leaders in positions of power and influence struggled to decide if they should respond and what their response would be. We thought about how they helped establish or amplify what were originally nonexistent efforts of diversity, equity, and inclusion.
We must acknowledge that a person who is a Black face in a high place has the leverage of influence and power. The question is whether they will pull the levers. There are many Black leaders who are intentional, unapologetic, and strategic in advocating and allying efforts specifically geared to empowering Black people and the Black community. But these efforts are easier said than done and we present what we call "the four f's" in the book, which gives advice on ways to approach advocating—fight, flight forego and friend. Our lesson is that at some point in your career, you must fight for something because someone fought for you to be there in the first place.
BET.com: Where do Black professionals in high places go from here?
Dr. Robinson: One of the challenges of being a Black face in a high place is that you're the only one or one of a few. Yet, our challenge to them is what are you doing to ensure you're not the last one? What are you doing to knock down barriers and create pathways for those on the same journey? If you aren't doing that, then you're not doing what needs to be done.
One of the many solutions is to usher dollars from these foundations, companies, and organizations into our communities so that we can have the same levels of access, opportunities, and success as everyone else.
Dr. Pinkett: We are still in the post-George Floyd era. We've got to determine whether we will make this era a moment or a movement. We have the choice to transform the moments we experience into movements. I hope we can look back twenty years from now and say we honored the moment and transformed the moment into a movement. I hope we can leave a better landscape than the one we found, and Black faces in high places can leave a legacy for future generations.