John McCain Requested Barack Obama Speak At His Funeral And Didn't Even Send Trump An Invite
The late Senator has been planning his own arrangements for the last year and wanted 44 to play a vital role.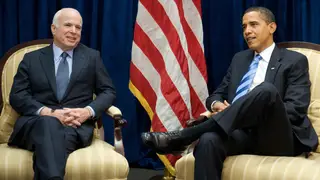 Whether or not you agreed with the policies of John McCain, there's no doubt that the late senator was well-respected across the aisle. During his battle with brain cancer over the last year, McCain, who died Saturday at the age of 81, spent a considerable amount of time planning his own funeral—a luxury few are awarded—and as part of his arrangements, the Arizona Republican requested former presidents George W. Bush and Barack Obama speak at his ceremony. As for Donald Trump, his invite was never sent.
According to CBS News, Obama and Bush will deliver their remarks during a service at the National Cathedral. McCain will also have a service in Arizona, where former Vice President Joe Biden will speak. Biden, who lost his son Beau to the same form of cancer, was a longtime friend of the McCain's.
When it comes to the sitting president, "Mr. McCain quietly declared before his death that he did not want Mr. Trump to take part in his funeral," reported the New York Times. Vice President Mike Pence is likely to attend in place of the president.
Obama, who defeated McCain in 2008 presidential race, issued a lengthy and dynamic statement after McCain's death that read in part, "we shared, for all our differences, a fidelity to something higher — the ideals for which generations of Americans and immigrants alike have fought, marched, and sacrificed.
"Few of us have been tested the way John once was, or required to show the kind of courage that he did," Mr. Obama said. "But all of us can aspire to the courage to put the greater good above our own. At John's best, he showed us what that means. And for that, we are all in his debt."
Trump tweeted a short message to the McCain family after John's death. The Hill reported that several officials at the White House prepared a longer statement which called McCain a hero, yet Trump passed on the message and opted for a tweet.