The Tuskegee Experiment 50 Years Later: A BET News Special Interview With The Associated Press Reporter Who Exposed It All
Part two of BET.com's discussion with Jean Heller, whose 1972 investigation exposed an unfathomable, and, yet government sanctioned, case of racism.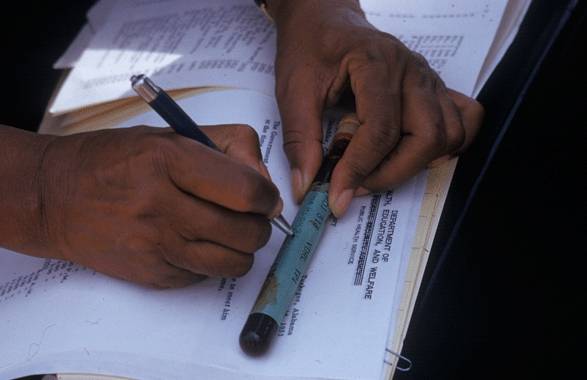 As former Associated Press reporter Jean Heller continued to dig into the 40-year human experiment on a group of Black men syphillis in Macon County, Ala., she found more horrid evidence of doctors who used unwitting participants for what they argued were scientific purposes. It was a clear disregard for their lives and the lives of their families – even with the advent of penicillin as a cure for syphilis, these Black men were left deliberately untreated and told not to seek treatment, despite the risk of further spread or harm to themselves.

In the second and final part of her interview with BET.com, Heller, now 79-year-old, living in North Carolina, and retired from journalism (but still using her storytelling skills as a mystery writer), talks about the reaction and the aftermath of one of the most significant news breaking events in African American history.
To read the first part of her conversation, click here.
BET.com: Now, you've told me a lot, but out of all the things you learned, what shocked you the most?

Jean Heller: That would be a hard thing to put my finger on. The whole thing shocked me beyond belief. I think the overt lies that these men were told, when they asked what was wrong with them. They were told they had "bad blood." And they took part in these studies, which were very uncomfortable, because every year when the doctors went to Tuskegee, among other things they did to these men was give them spinal tests, and that hurts like hell.
But they drove them through town in nice cars and they gave them hot meals, and when they died they gave them free burials.
The men were impressed with the way they had been treated [because] they had never been treated that way before. The townspeople were impressed that they were being treated like celebrities until they found out what was really going on.
I went down to Tuskegee again after the stories were published and talked to a number of the men who had taken part. I was sitting on a park bench in the Tuskegee town square with a man named Charlie Pollard. And I asked him, 'Charlie, how has this changed your life, if at all?' And he kind of gazed off across the street and he said, 'This used to be a friendly town, now people cross the street to avoid shaking my hand.'
At one point, I think I sobbed. What was going through my head was what have I done to these people? Haven't they been through enough?

BET.com: What happened then?
Heller: That shunning that they went through lasted until they won a federal lawsuit against [the Health, Education and Welfare Department] in which they all made what was good money at the time. They got enough to pay off their debts, to get new farming equipment if they needed and to take care of their families for the rest of their lives. At that point, once they won this judgment against the government, that's when people started coming out of the woodwork, claiming to be relatives and friends. They all wanted a piece of the pie, but the courts set very strict rules for how legitimate applications for compensation should be determined and handled.
On the 25th anniversary of the study, I went back to Tuskegee again. Only one of the original group of subjects was still alive.

BET.com: Was that Fred Gray?
Jean Heller: Yes and I asked Fred, 'do you think this was enough to make up for what you went through?' And he said, 'Well, I'm not the kind to hold a grudge. And the money bought me a new tractor, paid off all my bills – including the mortgage on his farm – and made it possible for my family and me to live comfortably for the rest of our lives.'
Good Lord! I would not have been that magnanimous if it were me.

BET.com: You've said after people read your story, there were protests outside of the Health, Education and Welfare Department. Considering the social and political climate of those days, what was the reaction across the country?
Jean Heller: People were horrified, public officials were denouncing [the study] when it happened. I think there was a lot of disbelief. I had gone to my childhood home in Ohio, just taking a break from the investigation…and my parents' best friends came over to say hello. The man was an OB-GYN and I told them about the story I was working on. The OB-GYN was in an incredibly reputable position and didn't believe me. He said there is no doctor who would do something like that. It was just too horrible to even imagine.
A couple of months later it was on the front page of my hometown paper as well as the front page of virtually every paper in the country. He never mentioned it to me again, I think he just couldn't bring himself to talk about it. There were a lot of reactions like that, which wasn't a public outcry.
And of course, there's still reactions going on even now.  When talk of a COVID-19 vaccine first came out, a lot of minority Americans were reluctant to take it. As someone put it: 'I don't want to be a test subject like the guys from Tuskegee.'


BET.com: We learned about this in history classes when I was in college, but do you remember what the response was back in the 19070s from the African American community?

Jean Heller: Among the Civil Rights leaders there was a lot said, but I don't think – and I could be wrong, I mean there were people of color protesting a lot of things all over the country – I don't remember any specific protests about this, but I'm sure there were. I know that during the Ted Kennedy hearings, the room was packed with people, mostly to criticize what went on and very loudly. In terms of overt condemnation of the experiments, I think a lot of people just suffered quietly.

BET.com: Was there pushback from the medical community about your report? I've read about people who, even recently, defended the Tuskegee Experiment as a good thing that allowed for a discovery on how syphilis works in the body. Did you hear a lot of that type of thing back then?

Jean Heller: Yes, the doctors were very defensive. The Associated Press is categorized a great deal and in the Washington, D.C. bureau, we had a reporter who covered medical issues. The Bureau Chief came to me and said, 'Would it be okay if we move the medical part of it over to that specialist and let him talk to the doctors?' And I said, whatever, that's fine. I don't think he ever questioned them as hard as I would have liked.
You know, you cover something long enough and you start to become part of the culture of whatever it is you're covering. He had become a part of the medical culture and maybe he was one who didn't think it was such a big deal. I remember he wrote a couple of stories about the doctors defending the study, but you'd expect that to happen. He didn't question them as tough as I would have. I would have asked hard questions like, tell me what's different between what you did and manslaughter? In fact, it would be second-degree murder since you wanted these men to die. That question, to my knowledge, was never asked.


BET.com: What did you learn about systemic racism in the medical field? Did many people realize it even existed?

Jean Heller: They certainly do now. It's not only distrust of the medical field, it's a fear of doctors. It's the absence, which people of color are increasingly coming to recognize and protest, of quality medical care if you're poor and if you're Black. It's like food deserts in big cities or when stores and banks don't want to set up for business…because they're afraid they can't make any money there.

These farmers had no access to medical care. These doctors came in and said we're going to come to town once a year, we're going to ride you around in nice cars, we're going to feed you well, we're going to treat you well and when you die, we're going to give you free burials, and oh, by the way here's a certificate thanking you for your participation. I mean, terrible doesn't even begin to tell you.