Mental Health Awareness Month: These Experts Tell Us How They Remain Positive And Achieve Their Goals
Start each day right by following these tips from financial, exercise, mindfulness and leadership pros.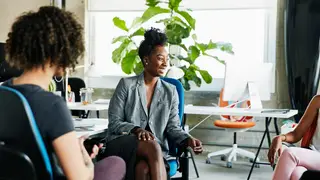 May is Mental Health Awareness Month and the perfect time to take stock of yourself and how you're feeling.  Considering the toll it can take to fend off microaggressions, covert/overt racism, and just worrying if heading out for a jog could mean the last time you see friends and family, it is crucial to focus on healing yourself and the community on all levels.
Since we know that, as a country, we are still working our way through understanding what true equality looks and feels like, learning to cope with stress is a crucial tool to cultivate right now.
To that end, BET.com reached out to wellness coaches who specialize in mindful practices, exercise, positivity, and finance to tell us how they are maneuvering now and what keeps them focused as we continue to navigate these challenging times.
David Lamar Freeman is a personal trainer, national digital performer brand leader, inclusion director at Life Time.
"I start each day by being silent for about  2-3 minutes to show my gratitude to our Almighty for waking me up and having another opportunity to create a positive impact on my family and the rest of the world," says David Lamar Freeman.
The personal trainer, who doesn't believe in New Year's resolutions, says that his motivation for staying in shape can change daily. "I focus on discipline, which speaks to my core values. My faith, my family, and serving are what keep me moving in the direction needed to arrive at my purpose of being healthy and being able to deliver the best version of myself to the world daily," he says.
However, to stay healthy mentally and physically, he does five workouts weekly incorporating strength and conditioning. "I also walk post-workout for 30-45 mins, sometimes distraction-free aka no electronics. Or I listen to a self-development podcast so I can consume information that helps me become better daily," says Freeman.
Jewel Tankard, is an economist turned financial powerhouse who is committed to helping women create wealth. She's started the Millionairess Club and the Pink Hard Hat Real Estate Investment Club.
"I grew up in a family that had money. I'm a fourth-generation entrepreneur, and my parents owned the first Black business in downtown Detroit. I grew up having cooks, drivers, and luxury cars, but when I was 19, my parents lost everything. I was devastated," says Jewel Tankard.
So she took that lesson and decided to educate herself so that she wouldn't have to rely on anyone. "I began studying economics at the University of Michigan and surrounded myself with entrepreneurs and forward thinkers," says Tankard.
However, there were setbacks. "I needed government assistance for a short time after a divorce and even moved back in with my parents. One of the best strategies to get out of my mess was to pay God, then pay myself."
Tankard always made sure to pay herself even if she had a hard time paying her bills. "I made sure to take a portion of all my income and invest it so it could grow. I began to understand that if I did my part by investing consistently, compound interest would do the rest," she says.
For Tankard, financial wellness means more than just being able to pay your bills: "It's getting to a place financially where your money is working for you harder than you are working for money. It means growing in your knowledge about wealth, always learning new things, and taking consistent action towards your goals."
Akai Jackson is a personal development expert, author of The Making of A Man and the CEO of I Excel Today a personal development agency that curates mindset shift programs to help clients transform their lives.
Akai Jackson's mindful practice has remained constant through the pandemic and so has the message behind what he does. "Stress has always been here, anxiety has always existed, and depression has been a constant in many lives. The current global health crisis also reminds us that what affects one family has to be addressed by all of us. The constant is: people need help, and they need the proper mental tools and principles to connect and cope with whatever they are experiencing," he says.
He is grounded in his faith and purposeful in his actions throughout the day and workouts 2-3 times weekly. "I'm very structured, as proper structure precedes predictable results. I start my days early in the morning at 5 am and read ten pages throughout the morning. Whether it's a self-help book, the Bible, the news, I'm feeding my brain first thing in the morning," he says.
Jackson, who believes that we have normalized feeling stressed, says that we can take steps to heal by having open conversations and connecting with our community, but admits there is a stigma about mental health in the Black community. "We first must understand where it comes from and why it is ingrained in our culture. It is passed down from one generation to another and runs in the subconscious mind, where 95% of all thinking, programming, behavior, and belief come from," he says.
"We can all work to bring awareness to stigmatizing language around mental illness and mental health. We can educate family, friends, and colleagues about the unique challenges of mental illness within the Black community. We can become aware of our attitudes and beliefs toward the Black community to reduce implicit bias and negative assumptions," he concludes.
Michael Phillips, ​education advocate, founder of LifePrep and currently serves as the Chief Engagement and Fulfillment Officer for the TD Jakes Foundation and author of "Wrong Lanes Have Right Turns"
"My passion is helping people to live a better life," says Michael Phillips who was once facing 30 years in prison on a RICO charge (Racketeering influenced organized corruption) for fraud and narcotics distribution. He was given an opportunity to turn his life around through the Give Me A Chance program that helped young people (usually nonviolent offenders) facing prison time go to college instead of prison.
"[I chose college because] I didn't want my destiny to be written on the cinder block walls of a jail cell, nor did I believe that my purpose in life would simply be to walk down the concrete floors of a prison only to be counted as a number rather than be called by my name," says Phillips.
The inspirational speaker believes that education is the great equalizer and a tool of liberation and is inspired daily to help people live better lives. "I am determined to drive social change with lasting transformational benefits," he says. "Advocating for equitable high-quality education for all children regardless of their zip code, building social entrepreneurship opportunities and working towards developing a national urban re-entry concept that includes transforming juvenile justice education is what gets me up in the morning," says Phillips.
Kemma Cunningham, is a certified personal trainer and group fitness instructor at LifeTime.
"Two years into the pandemic, I am motivated by keeping my health in check. If the pandemic has taught us anything, it's that doing what you can to maintain a healthy lifestyle (proper nutrition, movement, adequate hydration, and mental wellness) will give you the power to navigate tough times in better shape and better spirits," says Kemma Cunningham.
Cunningham finds that to stay on track with working out is to make a plan. "I've gotten in the habit of creating goals by making sure that they are specific, measurable, attainable, realistic, and time-bound. That has proven to work well and yield greater results for me," she says.
To help manage her days, she starts them with gratitude and sets her intention, which includes being present when talking to someone so they feel seen and heard. But working out is also a big part of her day as it is part of her job. "I teach eight fitness classes a week (cycle and strength), so some of that goes towards my workout regimen but not all. I am currently utilizing my LifeTime Digital training app, and I get workouts from my coach virtually to keep me accountable," she says.
But though she pushes herself hard, she knows that she also must restore and reset. "I am also a big proponent of rest days. That's when your body has time to recover and give you the gains you've been working so hard for. My rest days also consist of spending quality time with my family to fill my cup and my heart so I can continue to outpour my light into our community," she says.