Rihanna May Be Prepping To Launch A 'Fenty Skin' Line – And Fans Are Freaking Out
Rih's Navy is already making room in their medicine cabinets.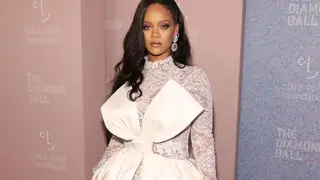 Rihanna's Fenty Brand has become a household name in just shy of two years. The superstar broke barriers with her skin-tone inclusive makeup line carrying foundations in 50 shades. Well, it looks like RiRi is going to have our skin feeling as good as she has us looking, as she allegedly prepares to launch a Fenty skincare line. 
According to Page Six, a trademark listed under "Fenty Skin" was filed on March 25 on the U.S. Patent and Trademark office's website. The registration is listed for goods and services and described as "medicated and non-medicated skin care, soap, body care, and personal care products; (excluding color cosmetics, perfume, and other fragrance-only products), and related accessories such as kits, tools, and applicators." 
This rumor first surfaced back in September 2017 after a fan tweeted "House of Fenty," which was possibly filed in order to launch highly anticipated Body Lava Luminizer, which has all of us glowing, might we add. 
The 31-year-old mogul already has Fenty Beauty, Savage x Fenty lingerie, a rumored Fenty luxury clothing, an accessories line in the works, and now, possibly, "Fenty Skin." Rih is here to collect all of her coins. 
The "Fenty Skin" trademark application has already been approved and will be sent to an attorney for further review, which can take up to three months to complete. But, whenever it does drop, we're sure the #RihNavy will be lined up to buy it.