49ers Player Colin Kaepernick Explains Why He Refuses To Stand During The National Anthem
He says the reason is bigger than football.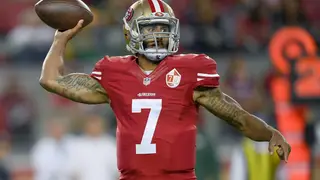 As fans tuning in to watch the San Francisco 49ers play the Green Bay Packers noticed last night (August 26) one player in particular was not standing during the tradition of the national anthem prior to kick off, raising all sorts of questions regarding his bold choice.
Colin Kaepernick, a quarterback hopeful for the 49s, intentionally sat the occasion out, and it's not due to being lazy.
"I am not going to stand up to show pride in a flag for a country that oppresses Black people and people of color," he said, explaining his actions. "To me, this is bigger than football and it would be selfish on my part to look the other way. There are bodies in the street and people getting paid leave and getting away with murder."
Kaepernick's protest is both admirable and controversial, and is also the first of its kind during this new season of the NFL. As reported, his employers were not too pleased with his decision, with the player sharing that he didn't run anything by anyone before acting in protest.
"This is not something that I am going to run by anybody," he continued. "I am not looking for approval. I have to stand up for people that are oppressed. ... If they take football away, my endorsements from me, I know that I stood up for what is right."
Kaepernick's refusal to stand during the national anthem shouldn't come as too much of a surprise, considering the state of our nation's ongoing tension between people of color and members of law enforcement. The player's actions have since sparked a larger dialogue about the very serious issues at hand, and he is being met with both praise and criticism on social media as a result.

Fans also are eager to see whether or not other players will join him in purposely sitting out the national anthem before games, and overall what will happen next in regards to athlete activism throughout this year's football season.