Former Seahawks Player Arrested For Allegedly Breaking His Girlfriend's Jaw In Violent Attack
Although Trevone Boykin denies the allegations, prosecutors say they have video evidence.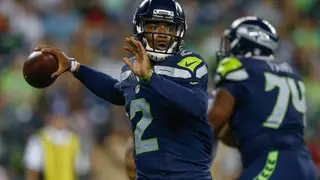 Former Texas Christian University quarterback Trevone Boykin was charged with aggravated assault for allegedly attacking his girlfriend and breaking her jaw at his home in March.
According to the Associated Press, Boykin was indicted Friday in Fort Worth and is free on bond. While Boykin denies the allegations, prosecutors say the March 20 attack was captured on security system video.
After completing the NFL combine, Boykin was picked up by the Seattle Seahawks, who released the 24-year-old from the team's practice squad shortly after the allegations surfaced.
In March, Boykin's then-girlfriend Shabrika Bailey told WFAA-TV in Dallas the star quarterback broke her jaw in three places and choked her until she passed out. Bailey told WFAA-TV the attack occurred after she refused to show Boykin a text message on her phone.
Her injuries resulted in her being hospitalized for three days.
"I remember him choking me and I'm trying to calm him down," she told the local news station. "And I just couldn't. And I blacked out. I just couldn't calm him down at all.
"The pressure was just hard. The pressure got hard to where I just remember just collapsing completely. And I just woke up in a puddle of blood on the kitchen floor. My whole right side was full of blood on the kitchen floor," she added.
According to WFAA, Bailey and Boykin have been a relationship since high school.
Last year, Boykins was arrested in Dallas on misdemeanor charges of public intoxication and marijuana possession, a case that was later dismissed. In 2016, he pleaded no contest to resisting arrest stemming from an incident shortly before the 2015 Alamo Bowl in San Antonio. He was suspended for that game and was sentenced to a year of deferred adjudication probation.