Cam's Back: Top 3 Reasons The Carolina Panthers Should Be Happy About Cam Newton's Return
The team signed their former MVP- winning QB after starter Sam Darnold went down with a shoulder injury.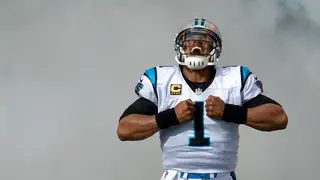 On Thursday (Nov. 11), the Carolina Panthers made headlines after announcing they're re-signing their former MVP quarterback Cam Newton.
The news comes after the revelation that current starter Sam Darnold would likely be out for several weeks following a shoulder injury he sustained on Sunday against the Atlanta Falcons.
While Newton may not be a long-term solution for Carolina moving forward, he's certainly a better option under center than the current QBs on the Panthers' roster (P.J. Walker and Matt Barkley).
Here are three other reasons the Carolina Panthers and their fans should be happy Cam is back with the team.
1. Sam Darnold Leads The NFL In Interceptions Thrown
The Panthers are currently 4-5 and last in the NFC South, and quarterback play has a lot to do with that. Thought to be the savior after Newton's departure in 2019 and Teddy Bridgewater's mediocre showing last year, Sam Darnold hasn't proven to be much of an upgrade.
Through nine games in Carolina, Darnold has thrown a league-leading 11 interceptions, which is already tied with the total picks he threw last season with the New York Jets. He's also averaging less than one passing touchdown per game with seven. While Cam hasn't exactly taken the top off of defenses in his last few seasons of playing he did decently in 2018 during his last fully-played season with Carolina, throwing for 24 touchdowns and a 94.2 passer rating – the second highest in a season for his career.
2. He's Familiar With The Team
While Cam's career with the Panthers has been up-and-down, a lot of which was due to injury, it's a lot easier for any quarterback to join a team where there's familiarity. While Newton hasn't played under second-year head coach Matt Rhule or offensive coordinator Joe Brady, he spent nine years in Carolina, and there's something to be said about that. Ironically, there will be some familiarity for Cam when the Panthers take on the Washington Football Team, helmed by his former coach Ron Rivera, in a week from Sunday (November 21).
3. He Seems More Focused On An NFL Return
After Cam Newton violated NFL COVID-19 protocol back in August and prior to the season, it effectively positioned Mac Jones to be the starter in New England. Since then, the 32-year-old has been vaccinated against the coronavirus, has been working out and teased in an Instagram video posted to his account in September that he has "a lot of football left" in him. Hopefully the motivation will reap benefits for the Panthers moving forward. After all, at 4-5, the team is currently only one game out of the NFC playoff picture.