Keyshia Cole Gets Candid On Why She Finally Decided to Divorce Daniel Gibson
The singer says she preserved her marriage for the sake of their child.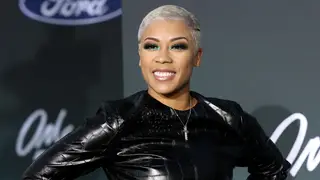 Keyshia Cole is setting the record straight on why she ended her marriage with Daniel Gibson.
The "Heaven Sent" singer shines a light on her life while starring in her first acting role by portraying herself in Lifetime's new biopic Keyshia Cole: This Is My Story, according to PEOPLE.  In the movie, she gets real about what really happened that led her to divorce the former Cleveland Cavaliers NBA player.
Cole and Gibson had their son, DJ, in 2010, then the couple tied the knot a year later in 2011.
The film paints a happy beginning for the couple, but alleged infidelity begins to rise within their relationship. Cole opened up the magazine, saying that the only reason she remained married to Gibson was for the sake of their son. "That was a lot of the reason why I didn't get a divorce through all the cheating," she said. "It was like; I just want to do it for my kid, you know what I'm saying? Like, 'Can he have two parents in the same home?'"
The award-winning artist has been vocal about the complicated family dynamic she experienced with her late mother, Frankie. However, she wanted different circumstances for her son, which wasn't enough reason to stay. "At some point you just gotta choose you," says Cole, "and choose to be healthy."
Now, Cole is living her best life while raising her two sons, including her youngest, Tobias, whom she shares with ex-boyfriend Niko Hale. She told the outlet, "Regardless if my kids don't have both parents I'm trying to create that safe space of co-parenting. That's really what it's all about."
She also admits that co-parenting "has its ups and downs," but doesn't allow that to hinder her most precious role of being a mom. "The kids are first in line. Sometimes we don't agree on things and when my kids hurt, I hurt. So they just know Mama Bear is going to come, so don't play. We work it out though."