NAACP Awards 2021: 5 Reasons Why Hit-Boy Is The Dopest Producer Around
He won this year's Outstanding Producer of the Year Award.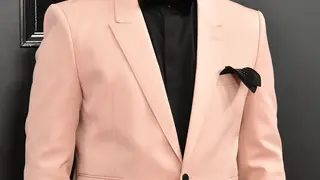 Dubbed as one of the most sought-after hip-hop producers, Hit-Boy does exactly what his name says — make hits. As the winner of the Outstanding Producer of the Year Award for the 2021 NAACP Image Awards, Hit-Boy is steadily climbing the charts. 
At 33-years-old, Hit-Boy (born Chauncey Hollis), the talented producer, has been in the game since the mid-2000s. He first honed into his craft after working alongside the R&B production team The Underdogs, who worked with Lionel Richie and Tyrese, RocNation writes. From there, the producer took a shot at his producing work for Fergie's 2006 album The Dutchess before earning official placement on J.Lo's 2007 Bravealbum. After signing to Kanye West's G.O.O.D. Music label soon after, Hit-Boy's success has sky-rocketed ever since.
Here are five reasons why Hit-Boy is currently one of the dopest producers around and why he deserves all of his flowers now. 
HE IS PLATINUM-PRODUCING

With several hit songs under his belt, Hit-Boy has received Platinum-producing cred on a few popular tracks. The 2010 song "Drop the World" by Lil Wayne featuring Eminem was certified RIAA Platinum 4 times. In 2011 his work o "N***as in Paris" by Kanye West and Jay-Z went RIAA certified Platinum six times. And in 2012, Big Sean teamed up with Jay and 'Ye for the Hit-Boy producing track "Clique" that went RIAA-certified Platinum 3 times.

HIS ROSTER OF ARTISTS HE HAS WORKED WITH IS IMPRESSIVE

From working with Beyoncé, Jay-Z, Kendrick Lamar, Travis Scott, Kanye West, Nas, and Rihanna, Hit-Boy has also worked with Jay Electronica, Freddie Gibbs, Benny The Butcher and Juice WRLD, and others. His roster of artists is far and wide, but this goes to show there is not a sound or a song that he can't tackle.

HE WORKS IN FRONT OF THE MIC AS WELL

Hit-Boy has found himself on the other side in the studio as well, as a rapper and songwriter. He has recorded and released seven mixtapes and three collaborative albums, RocNation reports. In 2019, the entertainer took home a Grammy Award for Best Rap Performance for his feature with Roddy Ricch on "Racks In The Middle" by the late Nipsey Hussle.

GRAMMY WINS AND NOMINATIONS

In addition to his 2019 Grammy Award, Hit-Boy was also awarded a 2012 Grammy for Best Rap Song for his effort on "N***s In Paris" with Kanye West and Jay-Z. He has received five additional Grammys noms, including: Album of the Year for Good Kid, M.A.A.D City (Kendrick Lamar) in 2013, Beyoncé's self-titled album in 2014 and her Lemonade album in 2014. Other nods include Best Rap Song for Travis Scott's "Sicko Mode" in 2018 and Nipsey Hussle's "Racks In The Middle" for Best Rap Song in 2019.

HE SAYS HE CAME UP WITH THE MOST MUSIC STYLES IN 2020

Executive producing albums like Big Sean's Detroit 2, Nas' 2021 Grammy-Award winning album King's Disease, and Benny The Butcher's highly-anticipated project Burden of Proof, Hit-Boy is about his business. From dabbling into an extensive catalog of music genres, he does not shy away from music categories and has tried his hand in several different sounds.