10 Xscape Songs To Keep You Reminiscing Amid 'The Queens Of R&B' Drama
The Bravo series inspired us to make a playlist to groove to.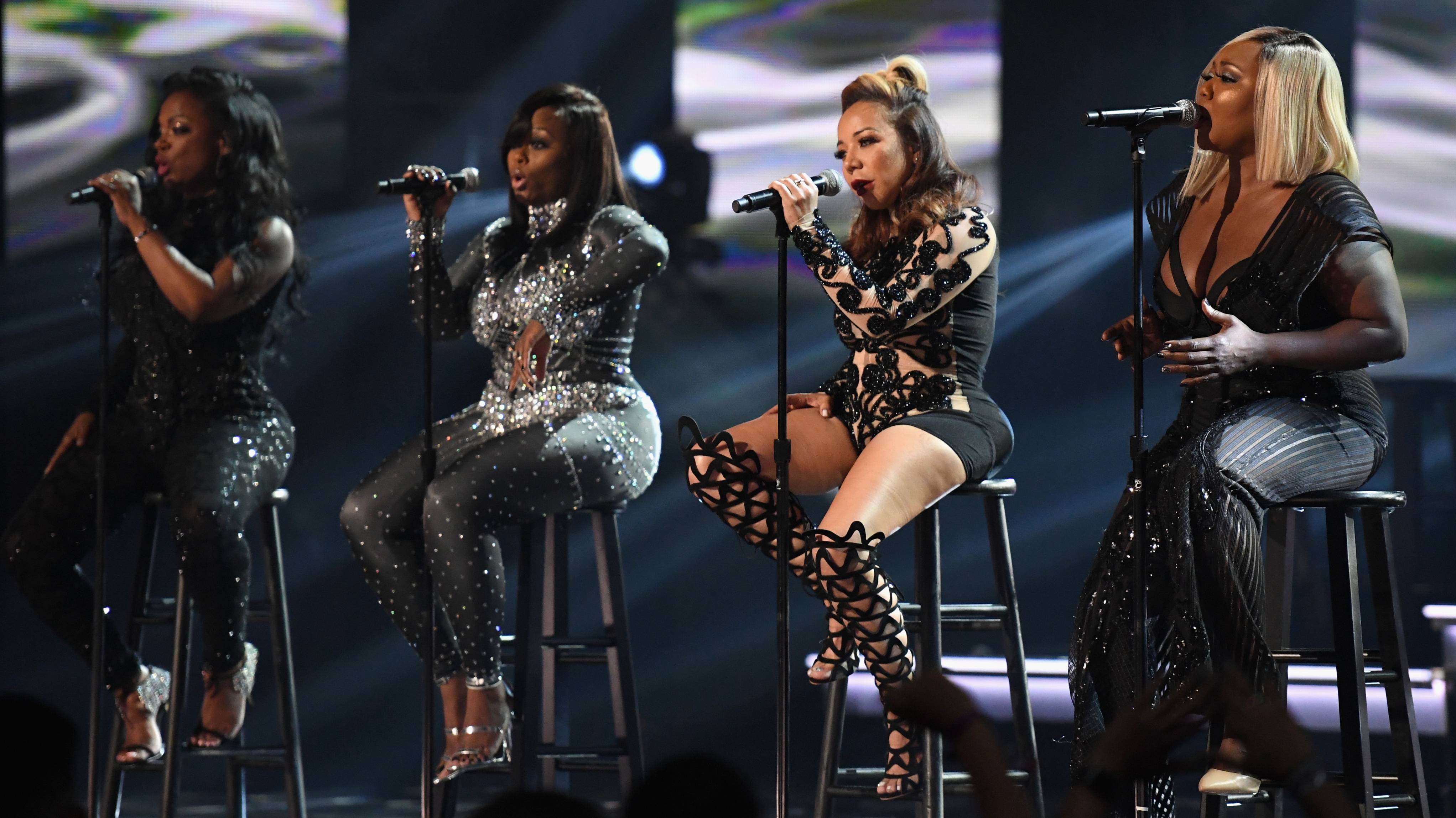 Viewers so far have been given a front-row seat to their '90s nostalgia as the two legendary R&B groups give fans a backstage pass to their personal and professional lives as they prepare to hit the stage together. But with that has come a lot of drama, including the rehashing of old inner Xscape beef between Kandi Burruss and LaTocha Scott.
The whole thing, including the ups and downs. has us in our feels and reminiscing about an era of music that touched our younger lives. So to celebrate that, BET has put together an essential playlist of 10 Xscape songs for your enjoyment. No other playlist is complete without them.
"Who Can I Run To" (1995)

Who could forget this exquisite Jones Girls cover? Off of their 1995 album Off The Hook, Xscape's "Who Can I Run To" did an old school gem justice and then some. It was also very commercially successful, spending 26 weeks on the Billboard R&B and Hip-Hop charts.

"My Little Secret" (1998)

Creating a song from the perspective of a mistress or "the other woman" is a bold move. But Xscape did it with "My Little Secret" and did it well. Sadly, the song would be the last charting single before the Atlanta quintet broke up.

"Understanding" (1993)

This Hummin' Comin' at 'Cha classic reached the top of the Billboard Hot R&B Singles chart and became the group's best-known love ballad. The slow and smooth style exemplified the type of music they created at the start of their careers and helped carry them to a sustained successful career.

"Do You Want To" (1996)

Need inspiration for a night of love and passion? Blast "Do You Want To" through the speakers and the chances of that happening grow exponentially.

"Love on My Mind" (1993)

The fourth single off of Hummin' Comin' at 'Cha, "Love on My Mind" reached Number 46 on the Billboard Hot 100 and Number 16 on the R&B Singles chart. The Jermaine Dupri-written cut was also a later dip by Xscape into new jack swing.

"Can't Hang" (feat. MC Lyte) (1995)

The double A-side to "Do You Want To," "Can't Hang" features both MC Lyte and an interpolation of "Southern Girl" by Frankie Beverly and Maze. It's also a little more fast-paced than most of their previous songs.

"Is My Living in Vain" (1993)

While not the biggest Xscape hit, "Is My Living in Vain" is no less a bop. Written by Barry White and Twinkie Clark, the Hummin' Comin' at 'Cha cut begs the question and then a prompt answer over whether one is making the right decisions in life.

"The Arms of the One Who Loves You" (1998)

The Traces of My Lipstick hit was perhaps the biggest from their third album and made it onto the Billboard Hot 100 and Hot R&B and Hip-Hop charts. It also demonstrates Xscape's superb songwriting ability with the chops to be able to create a ballad of such force.

"Memory Lane" (2018)

Why not include something newer, especially if it's a banger? "Memory Lane" is a reminiscing song of sorts with the quartet coming together to prove that they still have it. Maybe this would sound something similar to a new album if that's what spawns from this Bravo series.

"Just Kickin' it" (1993)

The collaboration between Jermaine Dupri and Xscape that became 1993's Hummin' Comin' at 'Cha was essentially a platform of hits. It spent 21 weeks on the Billboard Hot 100 Charts and that largely had to do with "Just Kickin' It." The cut ended up being the Atlanta group's most successful to date and has remained relevant today with more than 40 million Spotify streams.