5 Essential Kandi Burruss-Written Songs As 'The Queens Of R&B' Drama Heats Up
The Xscape co-founder has pen chops for more than just her own group.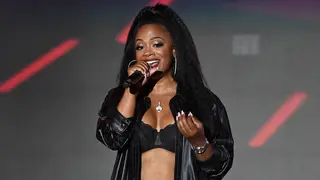 If anyone forgot the longstanding drama between Kandi Burruss and LaTocha Scott, they got a reminder over the past week.
The Xscape groupmates' past and present issues recently resurfaced as new episodes of SWV & Xscape: The Queens of R&B premiered on Bravo earlier this month. During the past couple episodes, Scott asserted that Burruss attempted to hold back her career and from being a lead singer on Xscape's songs.
This, among other claims, had Kandi taking to her Speak On It YouTube series to set the record straight from her perspective. According to the Real Housewives of Atlanta star, she's never been jealous of LaTocha singing lead or that she led her to go solo. Rather, she went through the group's albums and specified the numerous songs she sang lead on, including "Just Kickin' It," Xscape's breakout hit.
"She and I have always bumped heads, to be clear," Kandi said. "There was always an issue. I'll get into that more if we ever do a movie — I'll give y'all some real tea…"
So as this drama plays out in the Bravo series, or potentially into a movie as she suggested, we thought we'd give Kandi Burruss her songwriting flowers and list five songs of hers where she had the pen game on lock.
TLC: "No Scrubs" (1999)

Hitting the top of the charts in 1999, the FanMail banger also got co-writing credits from Tameka "Tiny" Harris, Lisa "Left Eye" Lopes and Kevin "She'kspere" Briggs. And while the song stands on its own merit in music history, it also reemerged semi recently when it was incorporated into the Ed Sheeran track "Shape of You," which now has almost six billion views on YouTube.

Destiny's Child: "Bills, Bills, Bills" (1999)

Destiny's Child's first Number 1 hit, "Bills, Bills, Bills" and one of the five tracks that the group worked on with Burruss and She'kspere on their sophomore album that would establish their signature sound. In the past, Kandi has surmised that the idea for the song came from when they were in a store while She'kspere was beat-boxing the beat in his head.

Xscape: "Feels So Good" (1995)

Ironically, during the midst of their resurfaced group tension, it was Kandi and LaTocha who sang lead on the first single from their second album Off the Hook. As a result, the smooth and mesmerizing cut eventually became certified Gold and reached Number 32 on the Billboard Hot 100.

Destiny's Child: "Bug a Boo" (1999)

"Bug-A-Boo" reached Number 33 on the Billboard Hot 100 to close out the last millennium and was popular worldwide as well. Interestingly, Xscape had broken up a year before the song was released, but it was Kandi who continued to take her songwriting ability behind-the-scenes and made a bag with it.

Kandi Burruss: "Don't Think I'm Not" (2000)

No list would be complete without including Mrs. Burruss herself. Returning to the spotlight with her debut solo album Hey Kandi… in 2000, the single "Don't Think I'm Not" reached Number 24 on the Billboard Hot 100. Interestingly, if you watch the music video, you may notice that Kandi isn't moving her legs much. Well, that was because they were broken after being crushed between two cars shortly before filming began.