NASCAR Driver Bubba Wallace Hit With Racist Incident After Impressive Finish At Race
Wallage was called the n-word over the radio just as he was finishing his race.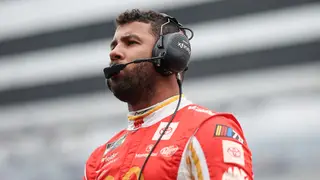 NASCAR is currently investigating a racist incident where a person got on Bubba Wallace's team radio channel and hurled racial slurs at him, Sports Illustrated's blog The Spun reports.
Just as he was headed into a second-place finish on Sunday (May 21) at North Wilkesboro, N.C., a person hacked into the radio and attacked Wallace with an anti-Black slur.
"Go back to where you came from you a n****r," the person said over the radio. "you're not wanted in NASCAR."
"You suck and you're not wanted in NASCAR," the voice continued.
According to the report, Wallace, 29, was not aware of the incident until after the race was over.
"Today's despicable act of racism and hatred leaves me incredibly saddened and serves as a painful reminder of how much further we have to go as a society and how persistent we must be in the fight against racism," Wallace wrote on Twitter at the time.
The FBI, however, determined in an investigation that Wallace had not been targeted with a hate crime. Nonetheless, Wallace insisted the rope found in the garage had been fashioned into a noose and garnered wide support.

"Over the last several weeks, I have been overwhelmed by the support from people across the NASCAR industry, including other drivers and team members in the garage. Together, our sport has made a commitment to driving real change and championing a community that is accepting and welcoming of everyone."
Also in 2020, Wallace successfully campaigned to remove the confederate battle flag from NASCAR events.
"Time is of the essence right now in the world that we're in, in the nation that we're in, to create change and create unity and come together and really try to be more inclusive," he said on ABC's Good Morning America, at the time.
Wallace has not yet addressed the incident that took place on Sunday.