NASCAR's Bubba Wallace Says We Can't Be "Complacent" Regarding Diversity
"We have to be fluid to keep understanding what it takes for everyone to be successful in this world."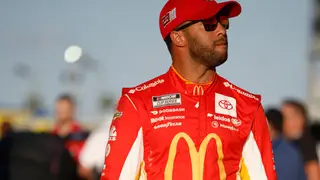 Netflix is kicking things in gear with their new docuseries about race car driver Bubba Wallace, who is the second Black NASCAR driver to win a NASCAR Cup Series race since Wendell Scott's victory back in 1963 and the fourth Black driver in contemporary history.
The six-episode series will give viewers a passenger seat experience with exclusive footage of Wallace during his 2021 NASCAR Cup Series season, his first meeting with Michael Jordan, and the turbulent aftermath that followed his decision to speak out about racial injustice.
BET.com was able to chat with Wallace, who gives the iconic racer Wendell Scott his flowers and praises him for paving the way for other Black drivers who want to enter into the NASCAR community.
"The footprint that [minorities] come from is because of Wendell Scott who laid down the foundation for us to come through which helped me appreciate where I came from and where I've yet to go," shared Wallace. "It's been fun to navigate through and work with a crew to document the process and journey — we're just getting started. I'm going to do everything I can on and off the race track to continue to represent in the spaces I need to.
Since making the bold statement in an arena that has lacked diversity since the beginning, Wallace's public push for change has sparked diversity in the crowd and an increase in ticket sales from first-time goers he tells us in the interview.
"We started out this 2022 season in a very positive way at the Busch Light Clash at The Coliseum in Los Angeles and we had the Black demographic come out with 70% of ticket sales coming from first-time goers who have never been to a NASCAR race," expressed Wallace.
"You see a lot of diversity in the crowd and lots of people came up to the race track to support me and the team. We're continuing to make the right footsteps and messages to combat the negativity in our sport and the nation. We can't be complacent or stagnant - we have to be fluid and keep up with the times to keep understanding what it takes for everyone to be successful in this world."
Twitter recently held a campaign entitled "Tweet It Into Existence," sharing tweets from major celebrities who used the platform to manifest their dreams. Wallace tweeted how he wanted to "race in a nationwide series," gaining the opportunity to compete in two more Xfinity Series races for Joe Gibbs Racing in 2014.
When asked about advice for others who are looking to pursue their passions, he lets BET.com know the journey will be "different" and folks should always "stay hungry."
"Every journey is different for every athlete," he said.
"The quicker you realize what it takes for you to be successful, hone in on the skills, push yourself to be better, and always stay hungry. Times may get tough and it could be repetitive — but times will change and outcomes will be different. You can head into a race with all the confidence in the world and get wrecked out — or you can go in with a losing mindset and win the race. You have to get up, try, and put your best foot forward."
We also had the pleasure of speaking with the director of the docuseries, Erik Parker, who tells us his ultimate goal when telling Bubba's story: to tell an honest story about Wallace's experience in 2020 during the height of the Black Lives Matter movement and document his experience during the current season.
"We're seeing something play out right now that history books will continue to read about and constantly referenced in future books," Parker expressed.
"We wanted to make sure we show you an individual Bubba Wallace and what he's been going through as he represents many other people. It was important for us to capture this honestly and he didn't hold back. He was the perfect subject to give us an inside look at this historical moment and he was a vessel in this — in particular to the Black and Brown audiences who may have little association with NASCAR at large to introduce them through the eyes of someone they can relate to."
Every athlete has their own ritual before heading out to compete. As for Wallace, he puts on his music and gets his head in the game.
"After a pre-ritual meal, I usually turn on some music and it doesn't matter the genre aa it changes each and every week as the unknown creates excitement for me," he tells us.
See how Wallace steers for social justice and much more in the new docuseries Race: Bubba Wallace, which heads to Netflix globally on February 22nd.
---
Ty Cole is a New York-based entertainment reporter and writer for BET.com who covers pop culture, music, and lifestyle. Follow his latest musings on Twitter @IamTyCole.