Bill Cosby's Worst Nightmare Is Coming for Tyga
The accusations of the rapper and a 14-year-old are heating up.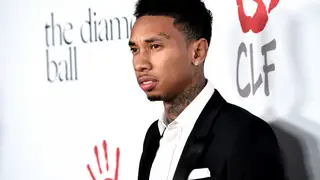 It looks like Bill Cosby and Tyga have one thing in common: no-nonsense attorney Gloria Allred is coming for both of them. Many of the women who accused Cosby of sexual assault are represented by Allred.  Now, according to TMZ, a magazine reported that Tyga cheated on Kylie Jenner with Allred's 14-year-old client, which has the famed lawyer fuming. Allred is gearing up to take action.
The unidentified minor was mentioned in a story by OK! Magazine, published last week, which stated that Kylie caught her boo red-handed texting the teenager. Allred is bothered by the angle because it paints the picture that the 14-year-old was excited to be "part of an alleged sex scandal."
While a suit hasn't been tossed on the table just yet, Allred, the teen and her mother are set to hold a news conference this afternoon to tell their side of what went down. 
Watch our rundown of Tyga and Kylie's relationship in the BET Breaks video below:
BET.com is your No. 1 source for Black celebrity news, photos, exclusive videos and all the latest in the world of hip hop and R&B music. 
(Photo: Alberto E. Rodriguez/Getty Images)