[Sad News] Who Shot College Football Star Gregory Bryant?
The UAB player has been declared brain dead.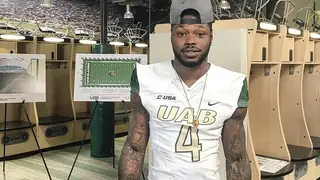 In a truly tragic development, the University of Alabama at Birmingham running back Gregory Bryant, who was found shot in Florida early Saturday morning, has been declared brain dead.
The 21-year-old student-athlete was driving on the I-95 when he was shot. West Palm Beach police spokeswoman Lori Colombino said that Bryant was declared brain dead at 1 p.m. on Sunday, and that the shooting will be classified as a homicide.
Bryant was in the process of turning his life around and making changes for the better. He began his college career at Notre Dame, and showed promise as a player. He left before the 2015 season after he was ruled academically ineligible.
UAB was set to bring back a football program for the 2017 season, and Bryant was its biggest recruit. Bryant was allowed to enroll in January 2016 instead of possibly having to wait an extra year to become eligible elsewhere, and in doing so, he could live on campus and become eligible to play.
Sadly, the young man's bright future has been cut short thanks to a senseless act of violence. Detectives are seeking witnesses for the shooting, and the perpetrator is still at large.