Ice Cube Thought Straight Outta Compton 'Wasn't Going to Get Made'
The film's producer says he almost walked away from the project.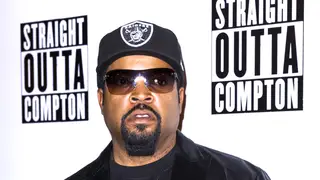 Straight Outta Compton has become one of the biggest success stories at the movies this year and has changed the way Hollywood thinks of "Black" films. But the project was nearly abandoned several times along the way to the big screen, producer Ice Cube reveals.
During The Hollywood Reporter's Producers' Roundtable, Cube opened up about the difficulties of getting the N.W.A biopic to completion. The biggest roadblocks, he says, came not necessarily from the studios, but the filmmakers themselves. 
"There were dark moments, dark times, where it looked like the movie wasn't going to get made," Cube says. "Nobody wanted to compromise our love for the film. Everybody felt passionate. There were a few different times where everybody was saying it's better to walk away than to make something we're not proud of."
The prolific actor, producer and rapper also spoke about the difficulties he has had promoting his films overseas. Conventional wisdom says that "Black movies" don't "travel well" or appeal to international audiences. However, Cube believes that it's a self-fulfilling prophecy due to studios' lack of promotion of films they have predetermined won't do well in certain markets. Straight Outta Compton clearly proved those theories wrong: it has grossed almost $200 million worldwide.
Watch Cube's full interview with The Hollywood Reporter, below:

Watch what director F. Gary Gray had to say about the making of Straight Outta Compton below:
BET.com is your No. 1 source for Black celebrity news, photos, exclusive videos and all the latest in the world of hip hop and R&B music. 
(Photo: Tristan Fewings/Getty Images)