Ne-Yo's Ex Monyetta Shaw And Wife Crystal Renay Detail Their 'Overlapping' Relationships With The Singer
He sat between them as they cleared his name.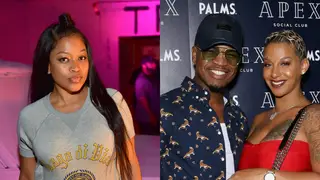 In addition to the public's rousing opinions about his ex, Monyetta Shaw, tying her tubes per his request prior to him leaving her, R&B singer Ne-Yo has been plagued with rumors, especially since solidifying his relationship with his now-wife, Crystal Renay.
Most recently, all three parties appeared on The Real with the ladies candidly addressing the chatter that Renay "took Shaw's man" when they first began dating.
When co-host Loni Love asked them to expound on what really transpired, to hopefully settle the unconfirmed news, Shaw claimed the confusion was only introduced as she and their two children were still living with the "So Sick" crooner when he went public with his romance with Renay.
"It was going into a year, but I think what confused everybody, we were still co-habitating," she said. "We still lived in the same house even though he was on the road a lot, so we didn't really feel it. So, I think the world got confused about that."
Renay added that her belief is that Shaw's appearance at the time, on reality series Hollywood Exes, caused the public to believe that their split was much fresher than it actually was, causing them to believe she was his mistress.
"I think it was the timing. She was on a show," she said. "Her show had just came out around the time we just got together. So, the confusion was around the timing. So, for me, it was like, it hurt. I have morals, I have standards, and I would never do anything like that. So, it hurt, but at the same time, you fight for love, and you do what you have to do."
Watch the ladies candidly speak on the seemingly muddy scenario, below: