Tiger Woods Says Pain In Injured Ankle is Gone, But There Are Other Concerns
The 15-time major champion has not played since dropping out of the Masters in April 2023.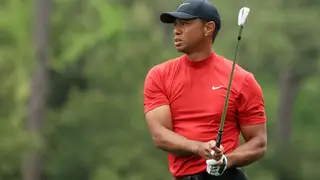 Tennis superstar Tiger Woods has given an update on his health status after suffering from an ankle injury that caused him to withdraw from the Masters tournament in April.
According to CBS News, the 15-time major champion has undergone fusion surgery on the ankle which has taken the pain away but he's dealing with pain in his legs since his procedure. He still his hampered by arthritis since his car accident
"My ankle is fine. Where they fused my ankle, I have absolutely zero issue whatsoever," Woods said.
Woods compared his ankle procedure to the fusion surgery on his lower back to repair the L5 and S1 vertebrae which he said are both doing well.
"That pain is completely gone. It's the other areas that have been compensated for … all the surrounding areas is where I had all my problems and I still do. So you fix one, others have to become more hypermobile to get around it, and it can lead to some issues," he continued.
After making the Masters cut for the 23rd time, which ties the ultimate record, has not been seen on televisions since withdrawing from the tournament.
In addition to his health update, Woods announced on Tuesday (Nov 7) that he will serve as player-owner for Jupiter Links Golf Club in TGL that he founded with Rory McIlroy during the inaugural season.
If Woods is to play in another tournament in the it would most likely be the PNC Championship, where he's played with Charlie have played the last two years.
Because it's sanctioned by the PGA Tour Champions, Woods would be allowed to use a cart which will help him navigate the course
This past week, however, Woods was caddy for his son, Charlie, in the Notah Begay III Junior Golf National Championship where spoke to the media about the experience.
"I'm pretty sore after caddying for four days," Woods said. "It was a flat course, thank God."