Did Juelz Santana Just Diss Cam'ron On His New Mixtape From Prison?
Earlier this week, the Harlem rapper surprisingly released a new mixtape, #FREESANTANA.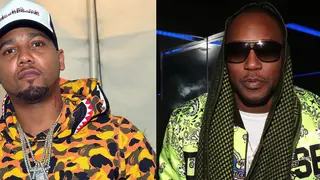 While Dipset rapper, Juelz Santana is currently finishing out his two-year prison sentence on a weapons charge his fellow group mates have continued to forge ahead with their own projects. Juelz won't be released until this coming summer but, the Harlem rapper found a way to drop a new mixtape, #FREESANTANA, from behind bars on Tuesday (Mar. 3) to hold his fans over until he is finally a free man. 
One of the songs, however, has fans speculating that Juelz might have some ill will towards his buddy and groupmate, Cam'ron, who recently released his own long-awaited Purple Haze 2 mixtape, after closer inspection of its lyrics. Juelz doesn't explicitly name Cam, but there has been speculation that the two Dipset members are not as close as they once were and the lyrics seem to attest to that. 

In the song titled "In My Life," Juelz denounces a past friendship with someone who he once thought he could count on to hold him down. 

"I was the loyalest n***a you ever met / Now I wish I was a n***a you never met / This was supposed to be a forever thing / Now it's just a whatever thing long as the cheddar's clean / I repped us over everything / Never thought these were the ties I would have to consider severing," he raps. 

Another set of lyrics comes later in the song that fans think are also aimed at Cam. At the one-minute mark, Juelz raps, "you ain't building s**t by yourself n***a/ You just forgot that we all need help n***a / For worse or for better / But that just taught me that nothing is forever."

Listen to "In My Life," in full for yourself below and tell us what you think. Is Juelz speaking about Cam, a man he once considered his brother or someone else?