Too Petty! Tamar Just Reacted to Tiny Getting Caught Grinding on Floyd Mayweather
All shade.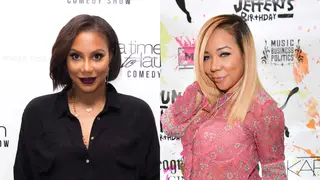 This ain't nothing but shade.
This morning, Tiny got caught on there when a video hit the internet of her grinding on Floyd Mayweather. The story broke the internet, and while Twitter was having a field day, it appears so was Tamar Braxton. Check it out below. 
We knew things weren't great between Tamar and Tiny after the former host of The Real unfollowed the reality star on social media under mysterious circumstances, but it seems like it's all-out war between them now:
That was clearly shade. We'll see if Tiny claps back!
Catch Tamar hosting the Soul Train Awards pre-show, above!