Former NFL Cornerback D.J. Hayden Killed in Car Accident in Houston
Two of Hayden's former University of Houston teammates were also killed in the crash.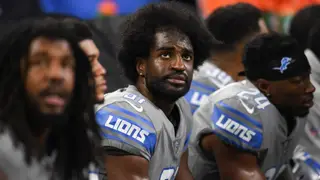 A car crash at a red light in downtown Houston early Saturday morning (Nov. 11) killed former NFL cornerback and University of Houston alum D.J. Hayden and six others
Former UH defensive back Zach McMillan and UH offensive lineman Ralph Oragwu also died in the crash.
At around 2 a.m., a speeding Chrysler 300 ran a red light and crashed into an SUV that Hayden occupied, according to Houston Police Assistant Chief Megan Howard. The incident claimed the lives of five men and one woman, as reported by the Houston Chronicle.
Four people were declared dead at the scene, including the Chrysler driver and a man who appeared to be homeless. Two others succumbed to their injuries in the hospital. Investigators are still in the process of identifying who was driving the SUV.
"The entire University of Houston community is heartbroken over the tragic passing of former Football student-athletes D.J. Hayden, Zachary McMillian and Ralph Oragwu earlier today, and our thoughts and prayers remain with Jeffery Lewis in his recovery ahead. We extend our deepest condolences to their families, friends, and loved ones, as we collectively mourn the loss of three individuals who made an indelible impact on each life they touched."
"While their combined talents provided Houston Football some of its most unforgettable moments, their unique legacies will best be remembered for the way they loved their teammates, supported their communities and defied the odds."
Born in Houston, Hayden, 33, excelled on the University of Houston Cougars football team. Drafted in the first round in 2013, he played eight seasons until 2020, when he joined the NFL and played for the then-Oakland Raiders, Detroit Lions and Jacksonville Jaguars.
"D.J.'s courage, perseverance, and dedication to his teammates will be fondly remembered by everyone who knew him," reads a statement from Hayden's former team, the Las Vegas Raiders. "The prayers of the entire Raider Nation are with D.J.'s loved ones at this time."