A 'Family Matters' Star Admits He Was 'Inappropriately Touched' By A Hollywood Exec
He makes a shocking admission.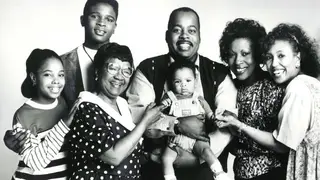 Hollywood has recently become enflamed with allegations of sexual misconduct as several members have found the strength to come forward and admit to being victimized by the gatekeepers of the community.
The latest to share their story — somewhat — is a member of the Family Matters cast. However, while he nonchalantly made his revelation, he made one thing clear: he's not seeking justice and also has a subliminal message for those who are.
The former child star who is opening up about his experience is Darius McCrary, who played Eddie Winslow on the hit 1990s family sitcom.
TMZ caught up with him while he left The Montage Hotel in Beverly Hills where he unexpectedly and briefly spoke of his experience.
"I was inappropriately touched by a Hollywood executive and I'm not gon' tell on nobody," he said.
When the photographers probed him to expound on who the culprint may be, he adamantly added, repeatedly, "I'm not gon' tell. I'm not gon' tell. This happened when I was a young man."
He also refused to specify if this happened while he was a cast member on the long-running sitcom Family Matters.
This comes weeks after Brooklyn Nine-Nine actor Terry Crews opened up about being groped by a "high level Hollywood executive," himself, and Broadway star Anthony Rapp admitted to House of Cards star Kevin Spacey attempting to sexually assault him when he was only 14. Each instance further proves that men in Hollywood are just as much victims in the often silenced reality of sexual assault in Hollywood.
Watch McCrary speak out in the video, below:
Get more on the Harvey Weinstein scandal with BET Breaks, above.