Dwyane Wade Reflects On How Hard It Was To Tell Gabrielle Union He Was Having A Child With Another Woman
The NBA Hall of Fame inductee said this conversation was more difficult than playing in the NBA finals that year.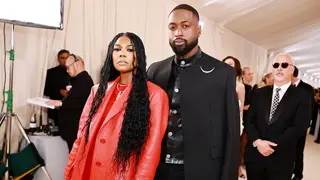 Dwyane Wade is opening up about a tough moment that tested his relationship with Gabrielle Union.
On Thursday (September 21), the Club Shay Shay podcast hosted by sports analyst Shannon Sharpe teased a clip from an upcoming interview with the newly inducted Hall of Famer, as reported by Today. In the clip, the retired NBA player reflected on the moment in 2013 when he revealed that he had fathered a child, Xavier Zechariah Wade, 9, with another woman, Aja Metoyer.
For Wade, breaking the news to the "Bring It On" star was more difficult than playing in the NBA Finals that year. To the former NBA player, it was "way harder to have a conversation with my now-wife."
According to Wade, he and Union were preparing for the future then.
"I mean, you're thinking about it. All right. It's all scary. The whole situation is scary enough," he explained. "And no matter what people say outside or what people think, it's like, ultimately, like you got to sit with you. You got to sit with this person, this woman you're gonna be with, right? And I had to sit with my wife about this. Well, my now-wife about this."
During their one-on-one, Sharpe kept it real with the former athlete and uttered how he had doubts if the TV and film star would have remained with him if news of the pregnancy had leaked to the public without him telling Union first.
"I couldn't have gotten through that moment without her sitting with me," Wade replied. "I tried to pussyfoot around it. I tried to break up with her: 'Hey, you know things has been bad lately. We've been having a look at this relationship.' Anyway, I tried all that. She kept showing up."
Since then, Wade and Union tied the knot and welcomed their daughter Kaavia James, 4. He is also the father to Zaire Wade, 21,  and Zaya Wade, 16, from a previous relationship and serves as the legal guardian to Dahveon Morris, 21.
Following that challenging time, they continue to fine-tune their relationship.
"It hasn't been perfect. It will never be perfect. But that was nine years ago, and we still go to therapy. We've had shouts about it. We've had regular conversations about it. And so it's been something that is going to continue to be something that I have to work at, and it doesn't go away because years come or because 'I say sorry.'"