Young African-Americans Consume More Sugary Drinks
Researchers found that African-American youth are twice as likely as their white counterparts to drink 500 or more calories of day.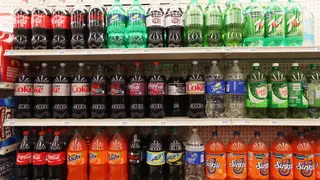 Who doesn't love soda and fruit juice?
According to a new study from the University of Illinois at Chicago, perhaps we love it more than anyone else. Researchers found that African-American children and teens are twice as likely as their white counterparts to drink 500 or more calories of day of soda, fruit juice and other sugary drinks, writes Reuters.
By analyzing the daily drinking habits of 40,000 Americans, researchers also found that Black children were twice as likely to drink juices that were made up of real fruit juice. They also found that teens' consumption of sports drinks were up, from 4 to 12 percent from the years 1998-2008.
Some good news: Heavy consumption — 500 of more calories a day — of sugary sweetened drinks fell among young adults (29-20 percent); teens (22-16 percent).
Some bad news: It rose among young kids (ages 2-11) from 4 to 5 percent.
While soda was the most popular sugary drink among young teens and adults, Black children were 60 percent less likely than their white peers to drink soda.
Poorer children, regardless of race, were twice as likely to drink sugary beverages compared to middle or upper middle class kids.
While the study didn't explore the "why," Lisa Powell, the study's co-author, believes that it may be a combination of factors. One being that children mimic their eating habits from what they see at home: If Mama drinks a lot of Pepsi or fruit juice, so will the kids.
Even aside from cost barriers, lower-income Americans tend to live in neighborhoods that lack healthy, high-quality food in nearby grocery stores, and they often struggle to access the transportation they need to go grocery shopping. The fast food industry also contributes to nutrition disparities by targeting its marketing to low-income communities.
Nevertheless, one important takeaway from this study is that fruit juice is just as much as a factor in obesity as soda.
"Some groups may be more at risk for soda, others may be more at risk for fruit drinks, all of which … have the same sugar base that contributes to obesity and disease," one of the study's co-authors, Powell told Reuters.
Our advice: Try limiting the amount of sugary drinks you consume every day and opt for gulping down some water.
BET Health News - We go beyond the music and entertainment world to bring you important medical information and health-related tips of special relevance to Blacks in the U.S. and around the world. Click here to subscribe to our newsletter.  

(Photo: Mario Tama/Getty Images)