24-Year-Old Danye Jones' Activist Mom Says He Was Lynched After Finding His Body Hanging From Tree
But St. Louis police are investigating the death of the Ferguson protester's son as a suicide.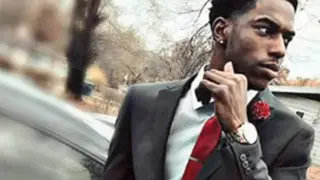 Two weeks ago, a Ferguson protester found her son hanging from a tree in the backyard of their home. Although police have said the death appears to be the result of a suicide, his mother insists there was foul play.
After finder her son, 24-year-old Danye Jones, Melissa McKinnies, who actively demonstrated after the fatal police shooting of Michael Brown in 2014, posted a message to Facebook which read, "They lynched my baby."
Although the message has since been removed, many people are demanding answers from the police about the death of Jones.
In a message posted early Tuesday, McKinnies says she is "sick with grief but ready to get up and fight for my baby."
In a police report, "suicide" was listed as the cause of death and they noted a chair was close to his body.
McKinnies' post showed pictures of Jones hanging from what appeared to be bed sheets. She also said her son had bruises on his face.
Family members told KMOV the sheets used to hang him didn't come from their house and the knots used were too advanced for him to have made.
While medical examiner's official determination of the cause of death could take several weeks, McKinnies is sure he did not take his own life.
"A mother knows her child. He was not suicidal at all, at all," she said.
According to McKinnies, Jones wasn't depressed and was starting his own real estate business.
"He was in good spirits," said McKinnies.
She told KMOV she believes there's more to the story, adding, "it appears to be to us is that somebody took my son."
McKinnies also told KMOV she thinks her family is being targeted and has received death threats over the last few months.
When asked if those threats were connected to her activism in Ferguson, McKinnies said she didn't want to get into details until a scheduled family news conference Thursday. Additionally, a rally in support of Jones was scheduled for Thursday outside the St. Louis County Justice Center in Clayton, Missouri.