A Mini Director!: Heiress Harris Adorably Requests A 'Slow Motion' Video Edit To Show Off Her Splendid Swim Skills
T.I. and Tiny's daughter has some serious confidence!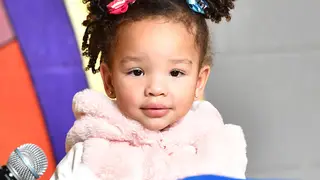 From flexing her Spanish speaking skills on social media to styling in designer fashions, the adorable toddler has been winning over hearts since she made her debut. Now, we are recapping her cutest fashion moments to date.
From twinning with mommy-and-me fashions to posing to flexing her singing skills, this toddler plays no games when it comes to winning our hearts. See for yourself!
Heiress Harris shows off her swimming skills while directing a home video!

Heiress Harris has her first vocal lesson in months.

Heiress Harris sings to her niece, Hunter Zoelle James.

Heiress Harris celebrates her 5th birthday with a luxe party!

Heiress Harris enlists the help of her big brother King to create intro music for her YouTube.

Heiress and her dad, T.I. are too fly in their navy wool coats!

Heiress is cooking a vegan with her auntie and Xscape member Latocha. This little lady is a chef in the making!

It looks like little Heiress is on set, and loving every minute of it! Take a look at this adorable moment showing the toddler twinning with her mom, Tiny.

"Don't play with me," Heiress confidently advised as she showed off her new blonde tresses. Who doesn't know this feeling when you get a new wig? We love it!

"Keeping your teeth clean is important," Heiress captioned an Instagram photo showing herself at the dentist. Preach, lil sis!

Shake Your Body! Baby Heiress has a new favorite dance move, and the cutie is expertly teaching her mom the moves.

Heiress is too cute as she gets emotional while singing along to her mama's Xscape song, "Understanding." This 4-year-old is a whole mood!

Is there anything that Heiress Harris cannot do? Recently, the 4-year-old cutie tried her hand at the #SavageChallenge choreography and didn't disappoint. See her moves below!

Recently celebrating her 4th birthday, Heiress Harris wasn't about to let an Instagram app tell her she's not a "3-years-old baby." See her hilariously-articulated response below!

Genius! During the Harris family's Jenga tournament, Heiress was dubbed "Baby Jenga" after she approached the wooden tower with extreme focus and expertly pulled out a block and effortlessly placed it on top.

Heiress Harris is 4! Over the weekend, the adorable toddler celebrated her 4th birthday indoors with a live karaoke party before settling down for the day with a relaxing massage. This girl is an entire mood. Happy Birthday, Heiress!

"Yes, I love my daddy," Heiress Harris adorably sang as T.I. makes the most of the quarantine by spending daddy-daughter time with his cute toddler.

Heiress Harris had one of the best seats in the house at the 51st NAACP Image Awards— Rihanna's lap!

Heiress Harris made her red carpet debut with her parents T.I. and Tiny at the 51st NAACP Image Awards. Is she not the cutest???

Bedtime Beauty! Heiress Sings A Lullaby To Her Baby Dolls While Matching Purple and Pink PJs

Baby Hairs Down! Baby Girl hopped out of the car in a fresh Nike 'fit.

Chillin' on trend! She effortlessly styled in a pink Givenchy jogging suit.

Mommy-And-Me Moment! Nothings better then matching with your mom in adorable camo looks.

Roaring Cuties! Heiress rocked a Kenzo sweatshirt while hanging with Laiyah Brown.

Life is Gucci! Heiress was all smiles with her mommy as she styled in matching Gucci sweaters.

Baby Girl flexed her urban chic style while shopping at Burberry.

Pretty playdate! Heiress enjoyed a day out with Laiyah Brown in a cutesy pastel look.

So Sweet! Wasn't she the cutest in her little Fendi dress?

Baby Heiress proved she had good taste while her mommy shopped at the LV store.

No shade! She was just swingin' in style with a 'Love' top, stripped leggings, and oversized glasses.