You in Danger, Girl: Toya Wright Is Getting the Lustful Eye From Another Rapper
Weezy better make his move.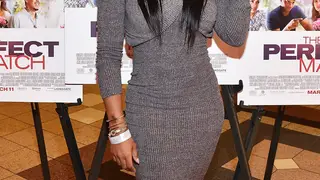 If Lil Wayne is trying to get his old thang back, he better move fast. It looks like another rapper has his eye on Toya Wright.
Sage The Gemini doesn't care if he lets you know he's thirsty. He's shooting his shot and you'll have to bear witness. He recently showed Weezy's ex some love during an Instagram video stream Wright did with fans.
"Toya is my future wife fasho," Sage commented, and then went straight simp, "Even though you leave me on read." He did this after opening with an "OMG" accompanied by a hearts face emoji.
Finally, to show he really doesn't care what people think, he commented on The Shaderoom's capture of all these developments, writing, "She fire," and of course a ton of flame emojis. It's unclear how she reacted, but we know she was definitely caught off guard.
The thirst is real, folks, especially during cuffing season. The comments were also savage for this one. One person even said that if Sage is a real Gemini, Toya should "rebuke that evil spirit… in Jesus name!" LMAO.