LisaRaye's Ex-Husband Reveals They Were Once In A Messy Love Triangle With Omarosa
Sabotage was involved.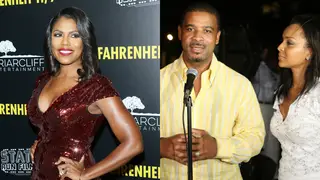 Michael Misick, the former chief minister of the Turks and Caicos islands, surprised many after he recently spoke out about his alleged six-month long fling with Omarosa.
Adding more shock value to his claim, he mentioned that his ex-wife, LisaRaye McCoy, had some involvement, of sorts, in keeping them apart.
In an interview with the Daily Mail, Misick shared that he and the infamous TV villain first met back in 2005 after she divorced her first husband, Aaron Stallworth. He stressed that he was enamored with her, at the time, and would, ironically, often go to her for political advice.
"I knew who she was and she knew who I was. What struck me about her was her intellect," he said. "We had a very interesting, stimulating conversation... She would always give me sound advice. In fact, I wish I had taken more of her advice — some things would have been different."
Misick went on to add that the two became romantically involved on a casual basis after he flew to New York to take her on a date to Sylvia's in Harlem. She later went on to accompany him on a trip to Dubai and from there, their relationship intensified for six months. The former politician also went on to make it a point to mention that their sex life was "amazing," and "very satisfying."
After the distance between them led to their romance fizzling out, Misick went on to date LisaRaye who, he claims, angrily forced him to end his friendship with Omarosa after she saw them speaking at an NAACP event.
LisaRaye and Misick went on to get married, themselves. They divorced two years later.
In addition to LisaRaye and Omarosa, Misick has been linked to a few other celebrity women including the likes of Rocsi Diaz and Nicole Murphy.
Controversy has surrounded him after he was forced to step down from his position in 2009 after being accused of corruption by the British government. He was put on trial in 2015 for fraud, bribery and money laundering.