New York Woman Brain Dead After Dispute Led To Fatal Shooting
"We have to make a family decision to take her off of life support," her mother said.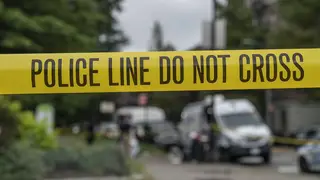 A Brooklyn, New York woman was fatally shot outside her apartment on Sunday (Oct. 16).
According to CBS News, 29-year-old Danielle Parker intervened in a dispute that initially took place via phone call between her brother and a former tenant that occupied space in the family home, where Danielle lived with her sister and her mother.
Her mother, Stephanie Cobb, was the landlord.
Danielle was having dinner with her family at the East New York residence when Danielle overheard a phone conversation between her brother and the unidentified former tenant.
"She heard it on speaker," the sister, Amani Parker, said. "He was threatening us, saying 'come outside, come outside and fight.' He said he had a gun. He was making texts and calls to my older brother's phone over and over."
The former tenant drove to Danielle's family home located on Dumont Avenue, along with his girlfriend and 4-year-old daughter. Danielle went downstairs, and that's when a fight broke out between the girlfriend and Danielle. Danielle was shot in the neck by the former tenant.
Danielle was taken to the Brookdale University Hospital in Brooklyn where she is currently unresponsive.
"He came out of nowhere and shot her," Amani, 25, recalled. "Why would you get involved with the girl fight?"
Danielle also has a four-year-old daughter. Her brother, Devin Parker, hasn't told his niece about her mother's outcome yet.
"It's crazy. She never bothered nobody. She's a sweetheart," Devin said.
The family finds themself facing the tough decision of taking Danielle off of life support, "because she's gonna never recover. She will never wake up," Cobb said.
Allegedly, the former tenant didn't see eye to eye with the family after being evicted from the home in August, after failure to pay $500 in rent to the mother of the household.
Cobb said they didn't want to pay rent and "were only supposed to stay a month. They were on their way to a family shelter."
"Why would someone pull out a gun and shoot my daughter," Cobb questioned, especially after the family claims they never tried to collect the rent payment. "It's heartbreaking. It's a bad dream I'm never going to wake up from. This gun violence needs to stop. I want them caught."