Colin Kaepernick Writes Jets, Requests To Be Added To Their Practice Squad
The former San Francisco 49ers QB is seeking another opportunity from the NFL.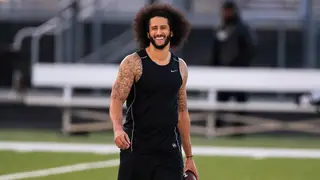 Colin Kaepernick, the former San Francisco 49ers quarterback who many hope will find his way back to the gridiron, has penned a letter requesting to be included on the practice squad of the New York Jets, CBS Sports reports.
Kaepernick, 35, reached out to Joe Douglas, General Manager of the New York Jets about a potential roster spot after four-time NFL MVP Aaron Rodgers's season was ended due to a torn Achilles in the first quarter of their first game of the season.
In the letter which was posted to social media by hip hop superstar J.Cole, Kaepernick laid out his case for being picked up by the Jets after a seven-year absence from league play after he entered free agency after the 2016 season when he began kneeling gestures before games in protest of police violence against Black people in America.
"I would be honored and extremely grateful for the opportunity to come in and lead the practice squad," Kaepernick wrote. I would do this with the sole mission of getting your defense ready each week."
Kaepernick said that the Jets had nothing to lose by giving him and tryout and he would be more than prepared to  contribute to the team
"Worst case scenario, you see what I have to offer and you're not that impressed. Best case scenario, you realize you have a real weapon at your disposal in the event you ever need to use it," Kaepernick wrote. "In either of these scenarios, I would be committed to getting your defense ready week in and week out, all season long, and I would wear that responsibility like a badge of honor."
Kapernick even said that he would serve as a mentor to Zach Wilson who has been struggling since he regained his starting position following Rodger's injury.
"I understand the importance of keeping him confident and focused as QB1, and I would only look to boost that confidence in any interactions that we may have if I was given this role within the team," Kaepernick said about Wilson in the letter.
Kaepernick's letter comes after fans of the Jets have been calling on the team to replace Wilson after his lackluster performances in the opening weeks of the 2023 season.
Jets legend Joe Namath did not mince words while giving his opinion about Wilson's showing against the Kansas City Chiefs during an interview on The Michael Kay Show. 
"No, I didn't take anything positive out of it yesterday. It was awful," Namath said.
"Broadway Joe" even went as far as to suggest that Wilson be traded by the Jets front office.
"Send him to Kansas City to back up against somebody like [Patrick] Mahomes, maybe, and learn something," Namath continued. "I wouldn't keep him. "I've seen enough of Zach Wilson, alright? I've seen enough. He has quick feet, can throw a little bit, but I don't believe in what's going on up there."