Rachel Dolezal Is in 'Talks' to Cash In on Her 15 Minutes of Fame
"Race faker" reportedly seeks agent, fielding reality TV offers.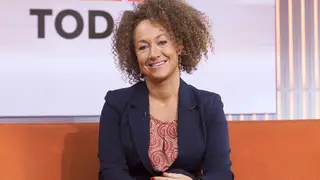 Rachel Dolezal lost her job at the NAACP this week, but she may be on her way to a new career as a reality TV star. The former president of the NAACP's Spokane chapter, who stepped down on Monday after it was revealed she had been posing as Black for nearly a decade, is reportedly fielding offers for her own reality show and is looking to sign with an agent.
Dolezal has allegedly been "offered two reality shows from different production companies," a source tells RadarOnline.com. "The offers were made last week along with several others that were just outrageous. Rachel recognizes that she is going to need an agent and a publicist, and is going to be hiring a professional team in the next few days."
RACHEL DOLEZAL AIN'T THE ONLY ONE: OTHER 'TRANSRACIAL' CELEBS

"Rachel wants to use all of the publicity to raise awareness about race relations," the source adds, saying Dolezal's "phone has been ringing constantly since the scandal broke, and she truly seems to be enjoying all of the attention. Going back to her former life just isn't an option."
Well, that's for sure. But maybe reality TV and Dolezal's own perceptions of reality are a perfect match, after all.
Watch Dolezal share her side of the story below:
BET.com is your #1 source for Black celebrity news, photos, exclusive videos and all the latest in the world of hip hop and R&B music.
(Photo: Anthony Quintano/NBC News via AP)