Six Bombshell Revelations From The Finale Of 'Surviving R. Kelly'
The six-part series came to an end in a horrifying way.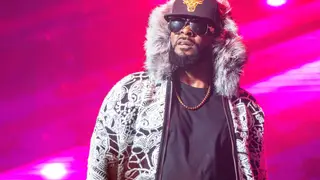 The final installment (Jan. 6) of Lifetime's six-part docu-series Surviving R. Kelly was a fitting end to a devastating story detailing the disgraced R&B singer's sexual and physical abuse of young girls and women. There were a myriad of startling revelations from survivors and the parents of survivors.
Here are some of the bombshells.
R. KELLY IS STILL PHYSICALLY ABUSING GIRLS AND WOMEN

According to a survivor named Jerhonda Pace, Kelly routinely physically assaulted her and other women. In 2016, she claimed he choked her until she blacked out. "I just hit the floor," she recalled. It was after that sobering incident that Pace finally gathered up the courage to leave Kelly.

Kitti Jones, a radio DJ from Dallas, also experienced Kelly's violent eruptions. The pair met during his Love Letter tour in 2011 when she was 33. She soon quit her job and moved into the singer's Chicago estate. But after being asked by a friend if she had seen Kelly's infamous child porn tape, she Googled the clip only to discover that she had recently been introduced to the same underage girl filmed having sex the Chicago native. She instantly called Kelly in tears to tell him what she had just witnessed. "Bitch, don't ever accuse me of something like that ever again!" Kelly allegedly snapped, later beating and slapping her repeatedly in his car.

THERE IS A RIVETING RESCUE OF ONE OF KELLY'S ALLEGED VICTIMS

When Mitchelle Kramer found out her estranged daughter Dominique Gardner was staying at a Beverly Hills hotel after seeing her in a TMZ video with Joycelyn Savage, she quickly flew out to Los Angeles in May of 2018. "At this point, she was 21, 22," Kramer recalled of the moment her child told her she was moving to Kelly's mansion in Atlanta. "What could I do? All I could do is pray and hope that just one day she would wake up and come home."

But getting Dominique to come back home proved to be a seemingly insurmountable battle. After several hours, Kramer was finally led to a hotel room where she saw her daughter dressed in a do-rag and T-shirt. The pair's tearful embrace doesn't last long. When the mother attempts a follow-up, Kramer is told by management that the police have been contacted, forcing her to leave the premises. It seems someone had erroneously claimed that Gardner was not her daughter.

Gardner later tells her mother that someone in Kelly's camp called the authorities. They secretly meet in a restroom as Kramer sneaks her terrified daughter out of the hotel. "You so brave…you so beautiful…" Michelle tells a crying, exhausted Gardner as they drive off. It's later revealed that Gardner returned to Kelly just days after her escape. She is currently back with her family.

KELLY'S TEAM ALLEGEDLY THREATENED TO KILL THE SISTER OF GIRL REPORTEDLY BEING HELD CAPTIVE

Azriel Clary was 17 years old when she first met Kelly in 2015 at a concert he was headlining in Orlando. Although her parents, Angelo and Alice, knew of the singer's reputation they allowed the aspiring singer to go onstage with him. The two later secretly texted and spoke on the phone, but when Azriel told her parents that she was auditioning for Kelly at his hotel, they rightly flipped. Kelly attempted to diffuse the incident claiming that he saw star potential in their daughter. It was agreed that the multiplatinum songwriter and producer would help get Azriel's career off the ground only if she was accompanied by a trusted guardian.

The deal was a ruse. As soon as Azriel turned the legal age of 18, she stopped answering her parents' calls. At one point, Azriel's sister A'Iceis flew out to Chicago to watch over her and discovered Kelly had the girls urinating in buckets because he wouldn't allow them to go to the bathroom without his supervision. Even more alarming, when A'Iceis attempted to drag her sister out of the recording studio Kelly intervened. "And then R. Kelly is pulling my sister, and I'm pulling her too, and I tell R. Kelly, 'I'm going to call the police and tell them you kidnapped my sister.'"

Kelly allegedly ordered his security to make A'Iceis "disappear" and threatened, "If you say anything, your sister won't make it out alive, or your family." The last time the Clary family saw Azriel was at her high school graduation in 2016. "She fell in love with someone that is a predator…it's heartbreaking," said a distraught Alice Clary.

THERE WAS A 'BLACK ROOM' IN R. KELLY'S HOUSE

Asante McGee, an R. Kelly super fan, soon found out just how sick and controlling her hero could be. The 35-year-old began dating him in 2014 and was exposed to a world of orgies, isolation and abuse in his Atlanta mansion. When McGee returned to the mansion that Kelly had been evicted from, the nightmares came rushing back, particularly her painful memories of the Black Room where the man she today calls the devil allegedly made her do "unthinkable" sex acts. McGee was often times withheld food for disobeying orders and wasn't allowed to come downstairs without knocking on the floor first.

ALLEGEDLY, KELLY KNOWINGLY GAVE FAITH RODGERS AN STD

Faith Rodgers first began dating Kelly when she was 19 years old after meeting him in March of 2017. Rodgers is currently suing the singer for giving her herpes. At one point during the documentary interview, Rodgers describes having sex with Kelly as being "consensual but it was consented by intimidation…who are you to tell R. Kelly no?" During their first sexual encounter the control freak reportedly told Rodgers she needed to "work on her moaning skills" and was shocked to learn that she was being recorded with an iPad.

KELLY'S NETWORK OF ENABLERS ALLEGEDLY EXTEND TO THE CHICAGO POLICE DEPARTMENT

The families of Joycelyn Savage and Azriel Clary joined forces to implore the police to conduct welfare checks at Kelly's homes. Unfortunately, said one anonymous former employee of R. Kelly, the singer was allegedly tipped off to the impromptu visits by law enforcement. "R. Kelly knew about the wellness check in Chicago before it happened because he has friends in the police department in Chicago, who warned him," said the source. Since the airing of Surviving R. Kelly, neither Azriel Clary nor Joycelyn Savage have been returned to their families.