#OnTheVerge: DC The Don Isn't Like His New School Peers, Purposefully
The Milwaukee-born rapper says there's not one hip-hop album released this year that is detailed as his.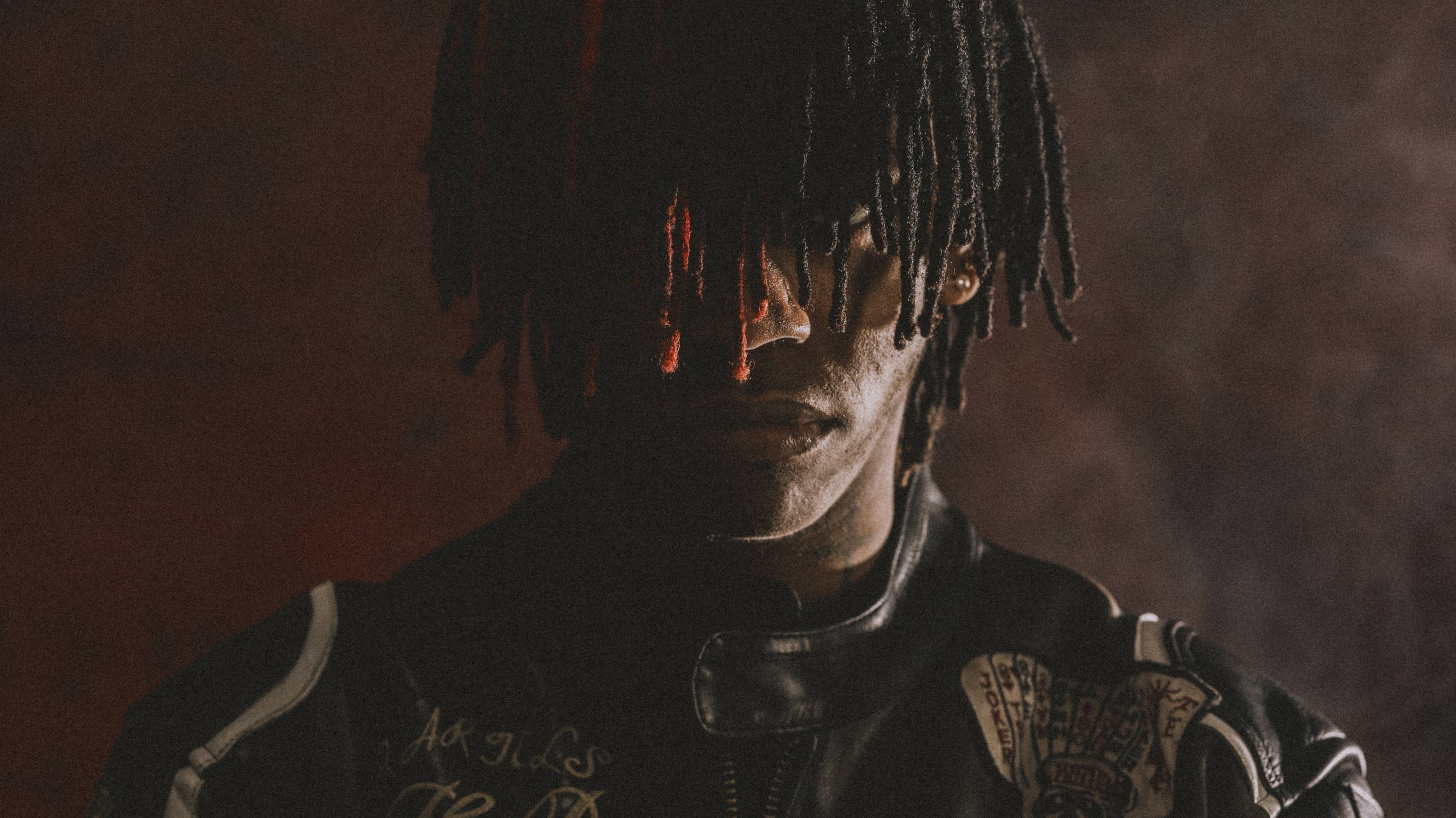 DC The Don is a significant part of a newer wave of hip-hop artists expressing themselves uncontrolled and unconventionally when looking back at the rest of the culture's 50 years. They're young, brash and unafraid of bringing something new into the game that the older guard may not understand or don't want to. But to rappers like the Milwaukee native, that rebellion has created a lane for fine song structure and creation, making him stand out from many of his current competitors.
Earlier this month, DC released FUNERAL, his latest album, which has him stepping out of his comfort zone a little bit, even if it didn't make him tense. Instead, it was that release of any guardrails he had been seeking for a while. Songs like "LUV" provide notes of funk and dance while "Hate Being Lonely" gives fans a very personal ballad over instrumentals DC's been better known for in his past work.
This expanded creativity has him separating from the pack – something he's keenly aware of. During a recent interview with BET, DC The Don discussed his new album and how he can make any project, he wants now. He also described his upbringing, creative process, current and upcoming touring and more.
BET: You're from Milwaukee. Tell me about growing up there and then moving to L.A. later on in life…
DC The Don: It was a culture shock but it's not like it didn't happen all at once. I didn't just get kicked out and out to move to L.A. I would visit my pops growing up. I didn't meet my dad until I was like four years old or something like that. My mom sent me to go visit him like I would take flights to go see him. Every time I would go, I would pick up on something that I've never seen in my life – just different lingo, the way people express themselves, how they dressed, type of music they listen to. Milwaukee is very one dimensional. So I'd come back to Milwaukee and be talking a little differently. When I was growing up, it was the Jerkin' Movement. My big brother was part of a Jerkin' crew and I remember in middle school, I had some skinny jeans, a Bob Marley t-shirt, and the f*****g jean chain on my s**t. And it was like, "Bro, what the f**k are you wearing?" N****s used to try to flame me all day. I really liked how in Cali you could express yourself a lot more and Milwaukee didn't have that.
BET: Yeah I'm from the Midwest too bro so I remember a lot of that in high school. In my day everyone was rocking Apple Bottoms and Girbauds…
DC: Girbauds, 501 jeans, RockRevival, the puffy Cartier, all that s**t. Nowadays I think it's a lot easier for kids now. My little brother still lives there, but I'm about to move him out of there because last time he came to visit me he said some s**t to me that was concerning. He was just talking like, Oh my God who taught you how to talk like that? Everybody felt like they still gotta act a specific type of way being from Milwaukee, they just feel like they got to they gotta f****n' submit to the culture that's there. But I think the internet helped kids get to see other people dress in different type of ways and I think it's a little more acceptable. Even still I think it's still the same.
BET: You released FUNERAL earlier this month, which was a bit of a pivot for you. Talk about putting that together and sort of the story behind it…
DC: Really it was a work in progress. Throughout the whole thing it felt very natural because I had probably, I would say three to four different versions of FUNERAL and eventually I came around to the "LUV" track. That was the first single that ended up kick starting the whole entire album for what it is now. I had a producer who was locked up, and I can't wait until bro out, but he really helped me with this album a lot. He ended up playing this beat, and he skips past it. And I'm like on the phone, it took me like 10 minutes to think to go back to the song because I was low key high. I was like, Hey, go back like four beats. And then he went back to it and he pulled it up. I was like, Bro, I gotta hop on his s**t right now. I ended up hopping on it that day, I just punched in. Usually, those type of records I would want to sit down and write on, but I just didn't. I just went in. It came very natural and that was my first dance record. I wouldn't say my first dance record because I was trying to do Drake-type beats when I was 18 or 17. But this is the first real dance record and it showed me a whole new light to what I could do. That track ended up being like the birth of "Hate Being Lonely," which was the first single. If I didn't "LUV" I wouldn't have had that record and many other records on the album.
BET: You experiment with different sounds on this album – everything from Jersey Club to synth beats, you mention dance, and also some of what your fans are used to from previous projects. Were you trying to get out of your comfort zone a little and what were you going for when creating it?
DC: If I'm being honest, I think the main reason why it worked out for me is because, I stepped out of my shell in a way on the surface level, but it was always the same s**t that I've been doing. It's just a new level of maturity, a newfound understanding of song structure, and putting songs together and keeping concepts coherent and cohesive throughout. Everything else was the same, like I always had the sound for it. I just didn't know how to execute it. I didn't have people giving me these type of beats and I've always wanted them.
BET: You also seemed a little more versatile overall and I feel like you're telling your story a little more on this one as well…
DC: I think in a way that's what separates me from everybody else in my class. Music always cycles and you get your moment when it's just gangsta rap for two or three years. Then you got the moments where it's just cool guy rap, party rap, frat rap, whatever you want to call it. And then you get your moment when it comes back to introspective and more real and vulnerable music. Right now we in the cool guy factor. Everybody in my class, they just want to talk about they Balenciaga, Rick Owens and Prada, and I love all that s**t too. But at the end of the day, I'm also giving them something with a little more meat on the bones because it's like a lot of m*****f*****s feel different type of ways. Everybody don't care about what they wear. Sometimes you're going through a breakup and you want to hear some s**t that relates to you. Nobody else in my class is doing that. I can't think of one f*****g person.
BET: Speaking of that competition, you're in this new wave of artists, a lot of whom already dropped albums this month – whether that's Destroy Lonely, JALEEL!, etc. Does competition inspire you, especially since you're part of this newer era?
DC: The reason why I stand apart is because I can make both those albums you just named, but they can never make the album I just made. That's just facts. A record like "Hate The New You," that's one of the best structured songs that I've heard all year and I haven't heard anybody in my lane – not yet at least – care about s**t like that. It's honestly just the care and effort that I'm putting into my project that separates me from all the other projects that dropped this year, especially in my lane. I do take the competition very seriously at the end of the day. I'm fans of all these people too. I'm a big fan of music. I love everybody's music. I try not to say music is trash, I just say it's not for me but I'll try to always understand it. But I will say there's no album that I heard this year that had the same level of attention to detail besides the [Lil] Yachty project. He put a lot of detail into that s**t, and I f**k with that.
BET: What is your creative process like? Do you develop songs before you hit the studio, during, or both?
DC: I usually like to go in with a concept and be in just like a direction. Regarding the period I'm in right now, it's back to the drawing board. So I just go to the studio or I get in my own studio – I record myself a lot – and whatever the f**k happens, let it be natural, just like how the "LUV" record happened. Sometimes you'll be boxing yourself in, I realized, and you have a whole new bag waiting on you that you're not tapping into. So when it's album time, and I know what I need to do, I'm just locking in on that sound. I'm doing every shade of it as possible. "Bankrupt :/" is very dancey, very poppy. "Hate Being Lonely" has like a little bit more soul to it. I'm doing every shade of it that I possibly can when it comes to me figuring out what I want to do.
BET: How has the Get Busy Or Die tour with $NOT been so far?
DC: It has been insane, but what have I learned? I will say it's been fun, though. I don't know. I'm learning now like because we're only a third [of the way] through the tour and my voice is f****d up, I feel lethargic. There's a lot of s**t going on and I can't stop. I's I'm learning to take care of my body a little bit more and just take it easy. We here for work, but I'm trying to also have fun, but you can't really have both honestly if you want to do either one of them efficiently.
BET: Also how excited are you to perform at Rolling Loud Miami and the Lyrical Lemonade Summer Smash?
DC: I'm immensely excited. I don't even know if I used that word right. But I'm very excited. I've always wanted to do festivals and it's always been a dream of mine to do Rolling Loud. So like, I don't know. We'll see. I'm excited though.