#OnTheVerge: whiterosemoxie's New Detroit Wave Is Helping Him Stand Out In The Motor City
The 21-year-old is young in his years but wise beyond them.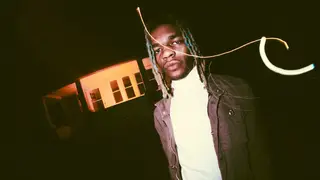 whiterosemoxie truly incorporates his life into his music.
The 21-year-old Detroit rapper has witnessed some of the biggest musical waves his hometown has had to offer, from Danny Brown's alternative hip-hop influences to more modern street artists like Babyface Ray and Peezy. While those artists sound significantly different from each other, they fully represent what the Motor City has to offer.
And then there's moxie, who is influenced by it all but makes a contrasting brand of music he helped dub "New Detroit Wave" – a sound that incorporates established Detroit hip-hop styles with a rage and electronic bent. It's this niche that has him building a loyal fanbase quickly.
After dropping fan-favorite projects like 2021's HABITS and last year's TROJAN, whiterosemoxie is ready to release his upcoming album HUMAN BEHAVIOR, which he says will be his most vulnerable and detailed to date.
Having released the singles "Call Me When You Hear This" and "Flavors," the latter of which has a video is inspired by Jordan Peele's film NOPE, moxie has already relayed some of his non-musical influence while trying to explain how much of people's decision making is involuntary.
whiterosemoxie discusses his upcoming LP, how Detroit made him the artist he is, his influences and how he's able to stand out in an increasingly homogenized hip-hop landscape.
BET: You're from Detroit, which is a hotbed of hip-hop right now. Talk about that and how your surroundings got you into music.
whiterosemoxie: I feel like Detroit is very blunt. It'll make you strong. It's a good city for that. And so that affects the music as far as, once I feel like an artist lands on a sound or lands on an idea or the fact of doing music, they've already been through so much that it's hard to get them off of that. Like Babyface Ray, he's been rapping for what, 10, 11, 12 years? Watching bro – it's kind of that energy. Once you make the choice to actually go in the booth and then drop that song coming out of Detroit, it's like you went out for life. Once you step up to that plate, you really almost feel pressure. It's kind of like going to a school that's known for their athletics. You got some people that came before you that you got to pay homage to.
Also it's cold here and it's dark. You won't see anything going on unless you know what you're looking for. So I feel like you can hear all of that in the music like, it's dark. It's a little cold, the 808s hit hard and it ain't doing too much unless you actually choose to listen and then you'll notice what's going on for you.
BET: Your music is pretty different from the more trademark Detroit bounce sound that artists like Babyface Ray, Icewear Vezzo and Peezy make. Do you think that helps you stand out at all?
whiterosemoxie: That's crazy that you said that. So last year – side note – Danny Brown came for the [6th Annual Bruiser Thanksgiving], and unfortunately, I couldn't even go to that freaking show but my homie [ademar locke] went, and then they had the afterparty Midnight Clubs, which is like this thing in Detroit – they go around DJing past midnight. We had already been going to the house events and the underground rap [events]. And Danny Brown came and brought out both of those crowds. Me and my homie locke were just like, 'Oh, it's already a thing.' Nobody's just labeling it. The hood Detroit sound took the name of Detroit sound, but that's just the hood music, and that's fire, everybody listens to it. But then there's also a subculture of New Detroit. And so with that energy me and my homie locke, we started the page New Detroit Wave.
BET: Within the last month or two you've released the videos for "Flavors" and "Call Me When You Hear This" the former being an ode to Jordan Peele's NOPE. Can you describe the creative process behind each of those?
whiterosemoxie: 100 percent bro. So right now, I'm kind of building a world for the human behavior idea. The whole idea for the world is the behaviors that you're not necessarily in control of. It's not like you're making a decision to do something. Sometimes you're really under control of the motion or under control of life or under control of whatever. I feel like "Flavors" kind of represents that in a great way as far as the song and everything. I'm just talking about 'I get high all the time' trying to act like you don't already know that. As far as the videos, like you said, it was an homage to NOPE. My granddad used to watch old Western cowboy films on the TV on repeat. So once I seen NOPE, and all these more African American-centered cowboy movies coming out lately, I had a big attachment to them. So when I went to Nick Welch for the "Flavors" video, he was like, 'Bro, there's this crazy spy like straight out of Breaking Bad.' I'm like, 'Oh yeah, that might be like a full circle moment for us.'
"Call Me When You Hear This," I actually wrote that in front of the girl that was about, and it was crazy because I hadn't seen her in months. It was just like dealing with being in a new relationship with somebody that I used to date. It was kind of like, this is my girl and now she going to college and I'm doing this music stuff, and we don't want to hate each other and grow apart but there is some tension and some distance.
BET: Those songs are from your upcoming project HUMAN BEHAVIOR, which is supposed to be a more reflective project. I think that's dope because as more people learn about you and your story it's good to be a little vulnerable. Is that accurate?
whiterosemoxie: Yeah, so I've been playing with this form of release, this waterfall form, because I really enjoy being there with the fans through the release instead of dropping the whole project. Because now, instead of asking each fan what's their favorite [song], I get to literally just watch the reactions to each thing, and then at the end, you're just seeing the whole project kind of like that. I genuinely do feel like now was the time I wanted to let some of the people watching me for a while in a little bit. Let me get a little vulnerable for the people that have stuck it out with me ever since. Who knows what the f**k I was at 16, 17 [years old]. I'm gearing up for this transition. So I'm glad you even brought that up.These are the vibes we're gonna get from "Moxie." Like it's no more experiments and trying to figure out what's going on, I really have so much to say now. I feel like I got more to prove.
BET: You're very inspired by Chance The Rapper, LeCrae, and others, but your music definitely is different from theirs. Talk about them and some of your other inspirations.
whiterosemoxie: Yeah, that's funny as hell. Like, I grew up in church. My parents were super religious. One of my granddads was a pastor, my other grandma and grandpa was at church every Sunday and then my parents would have this one church that their friends ran, so I was somewhere in that lane. So that's where the gospel rap came from at first, and then I just remember at some point – once I got into Chance, I kind of grew up with him. I remember "Cocoa Butter Kisses" vibes. Then he kind of went to Coloring Book vibes, which is when [Kanye] had just won me back over with [The Life of Pablo]. I was in a mood. At some point it went from making music that sounds like stuff I like to like me actually venting. I started so young, before I even had stuff I knew I wanted to talk about.
Then I remember somewhere in high school, I found Juice WRLD, I found [XXXTentacion] a little earlier, [Ski Mask the Slump God], the whole SoundCloud scene and all that s**t. And I remember being like, 'whoa, I do have something I want to say.' So I feel like that's what caused the transition lyrically. Sidenote, my pops was a banker, and he does stuff in the city as well. So while I was a kid, I couldn't make explicit music. That was the rule. They got me all my equipment, but the rule was until I was [an adult] I had to be clean. "Whitegold," my number one song, I wrote completely clean.
BET: I also really love your projects HABITS and TROJAN, which were my introduction to you. How do you feel you've grown from those in a short amount of time to what you're creating and putting out now?
whiterosemoxie: I really been able to find myself through all of this s**t. I feel like that was the biggest benefit. I really just found myself somewhere along the way, post-TROJAN a little bit. HABITS, I was getting there, but I really was able to find myself. I just want to thank the fans and everybody for that, because through the ups and downs with releasing all that stuff, it's really worth showing me this is really what I love and this is really what I'm built to do, no matter how it's looking for me at the moment. It's times where I'm literally red for three months, stat wise. I'm still in the studio every day, I'm still working and grinding and waking up smiling and DMing somebody in the morning just because it's really what I like to do. So once I understood that, it was less pressure.
BET: You're still very young, and a lot of the inspirations you have, a lot of other artists do too. And it's understandable due to where hip-hop has gone in the past few years. But how do you try to stand out from some of these younger rappers, because a lot of them are sounding the same? And that's not that different from a lot of rappers from the past because trends always dictate a lot in hip-hop…
whiterosemoxie: Yeah, bro. I definitely agree. I'd say, well, one naturally – I'm just a different person. I've had so many different experiences from the jump that I know my brain doesn't work like most of these people. I don't just see and then rinse and repeat. Just to put it this way, I was born in New York, and my dad had to travel for work. So sometimes I would go with him. So from the jump, by the time I'm four or five, I knew it's more than one way to do things because I've seen multiple cities and states and countries by the time I'm like, six. So, I was never looking at somebody like, 'that's how you do it.' I was always like, 'that's how they do it.' This is how you could also do it. So from that, I always looked at everything from that perspective.
BET: What is your creative process like? When you hit the studio, what are you looking to accomplish?
whiterosemoxie: I usually work with one of two producers – if it's not Jay Cribbs then it's KMO. Sometimes I do beat packs, but I usually work with two people, so we already have a sound that we're already going for, we'd be having conversations about that stuff. Like the actual sonics [are] really important to me. Sometimes I'll come in with a song we started yesterday and I'll be like, 'Yo, let's redo this one and go from here.' But other than that it just be off the raw emotion or we go do something before or after a show.
BET: Who are some artists you'd love to work with that you haven't gotten a chance to yet?
whiterosemoxie: Hayley Williams, Ed Sheeran, Post Malone and Pink Pantheress, and then also, can't forget my baby Kaytranada.