100 Days In Office: Mayor Eric Adams Talks About Leading The Nation's Largest City With His 'Get Stuff Done' Approach
The former NYPD captain gets insightful about the first four months of his tenure.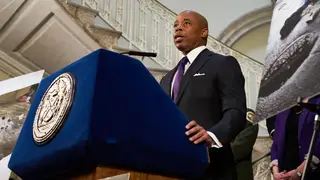 Now that he has surpassed the first 100 days on the job, meeting his first mighty milestone as New York's City top boss, Mayor Eric Adams spoke about his experiences and his hopeful outlook for the city. What better way to get to know someone than to be an unobtrusive observer in that person's presence? Adams invited BET.com's Senior Editor Madison J. Gray and photographer Evans Alexandre  to follow him and tag along while he worked, revealing aspects of his role as the leader of a city of 8 million people and to find out if his "get stuff done" approach is actually working.
On Housing

Adams says that New York should consider further use of Mitchell-Lama developments, which is a state program in which condominiums and co-ops become more affordable particularly for communities of color with moderate incomes. It operates as a non-subsidy housing guarantee and more than 105,000 housing units have been built under the program since its inception in 1955. Adams, however, also believes in penalizing landlords who skirt the law to discourage the mass exodus of families who took off during the COVID-19 pandemic.

"If you are destroying property to displace someone, that's criminal mischief. If you're burning down buildings or burning down apartments, that's arson," Adams said. "If you illegally evicted someone, that's an illegal eviction, we are not following the law on those who are displacing innocent people. And I sent a clear message to my police commissioner that [this] is unacceptable under this administration."

On March 30, Adams signed Intro 70 into law, a policy that extends rent stabilization in New York.

On Crime

According to New York City COMPSTAT figures provided by the NYPD, violent crime has seen a 44 percent year-to-date jump and it is an issue that Adams and police are trying to push back against, but must do so without opening the door to new episodes of police violence. Crime in the subways, in broad daylight, against the elderly and largely focused in Black and Latino neighborhoods has reached a level of concern not seen in more than a generation.

Adams has a two-pronged approach. First, focus on preventing what he calls a "revolving door" that allows criminals back onto the street. Second, strengthening the educational system to give people social incentives that are better than engaging in criminal behavior.

On April 4. Adams met with the family of Kade Lewin, 12, who was sitting in the passenger seat of a vehicle parked in East Flatbush, Brooklyn when gunmen fired on the vehicle, killing him and wounding his cousin, the driver.

"...We have to deal with intervention. Mrs. Jones is saying what are you doing about these shootings right now on my block, that's the balance and a mother doesn't feel any differently if you're not going to do and say, 'Mrs. Jones, your son was not shot by the police, he was shot by a gangbanger.' That's not a condolence, that is not something that's acceptable. So we're making sure we go after those dangerous people who carry guns. But let's close the pipeline that feeds people the need to carry a gun."

Pastor Louis Straker, clergy lead for the 67th Precinct Clergy Council in Brooklyn said that public safety and preventing violence is a shared responsibility within the community.

"There's no way police can arrest our way out of gun violence in our community," said Straker, who is Lead Pastor of Reflections Church in the East Flatbush community. "It's going to take the entire ecosystem of the community, police and the mayor's office to stem the tide of gun violence." He explains that his group has boots on the ground ranging from mentors to violence interrupters to prevent shootings before they happen. "It's all about building relationships and having engagement. It goes much further than waiting for someone to commit a crime and locking them up."

On Mental Health

In New York City, there is uneven access to treatment for those who suffer from mental health challenges and that is exacerbated among the young, particularly those who were adversely affected by the coronavirus pandemic. Adams says that it takes more than just having mental health professionals in schools.

"We need to teach children the power of brain breaks, how the brain operates, how it deals with stress, what happens when you're identifying stress, having our children learn the operation of their bodies within a classroom setting and doing it together as a group, the'll empower each other. You know what else they do? They go home and empower their families," he said.

C. Virginia Fields, president and CEO of the National Black Leadership Commission on Health, said that one of the major issues when it comes to mental health in New York is accessibility and in some cases they are not known about and that must be addressed.

"I think we need a real inventory of what services are available especially in those ZIP codes where data can direct such a process to look at our communities," said Fields, who served as Manhattan Borough President from 1997 to 2005. "One of the things we're hearing is the need for mental health services increasing in terms of outreach. They are not able to respond to the load of requests coming through and that is a real issue and can provide hurdles."

On Schools

At one million, New York City has the largest student body in the country in its public schools. After the pandemic in which so many children were forced to learn remotely, some schools are finding that their students are not returning. Mayoral control of the schools will soon be voted on by state legislators and Adams is a supporter of it.

"I've said this over and over again. If you don't educate you will incarcerate," he said. "It's no getting around it. And there's no real desire to educate our children. Sixty-five percent of Black and Brown children never reach proficiency. That's unbelievable and it's a feeder to crime. As I stated, 80% of the inmates at Rikers don't have a high school diploma or equivalency diploma. We need to zero in on education, but education can't be just academically smart, they must be emotionally intelligent."

On Infant Mortality and Maternal Care

Like other parts of the country, the health of Black and Brown mothers is of serious concern. Adams has recently announced a city program to provide 50 doulas, non-medical personnel who are trained to provide physical and emotional support to expectant mothers and new moms and service up to 500 families throughout the city.

"But a doula can actually help with maternal morbidity, identify the postpartum, with some of the stress that mothers are going through, explaining how that stress can be passed on to a child. Giving them the support that they need during those difficult times," said Adams. Black women die at 12 times the rate as white women for maternal morbidity, that would be a crisis if the numbers were reversed. We are treating it like a crisis here in the city, and we're going to give those mothers and fathers the support they deserve."

On Recovering From the Pandemic

New York was one of the cities hit hardest by the spread of coronavirus. Even now, many of its streets are seeing a fraction of the foot traffic they once had and businesses that managed to survive are still barely hanging on. Adams says federal help is very much needed to strengthen the city and protect jobs.

"We need the Build Back Better bill that the President is attempting to push through," says Adams. "We need to be very specific at going at Black and Brown businesses, particularly women businesses. Black women, their businesses were traumatized, we lost a substantial number of them. And we need to do it on several levels."

On His Life As Mayor

Adams, 61, a native of Brooklyn who grew up in Queens says he's a "nightlife mayor" and hangs out in a number of places around the city.

"Everything from Zero Bond in Lower Manhattan to Sugar Hill in Bed-Stuy, to up in Harlem. There's so many places. This is a place if you want to socialize, it's an opportunity to do so. You can let your hair down. When I had hair I used to do that," he laughed.

On Financial Literacy

Adams has been an advocate of teaching financial literacy since he was Brooklyn Borough President. Now, he wants to expand on that plan and infuse the concept into the educational system.

"...We want our children to learn how to use their dollars. We want them to explore Bitcoin, blockchain. We want them to look at how to go into financial industries," said Adams. "But no one is teaching our children the basic tools.  Giving those basic tools to our young people who are not receiving it at home…and then bringing all first time home buyers, co-op buyers, condominium buyers, their parents into the fold at the same time."

On Wealth Building

Mayor Adams also believes that building wealth among Black communities also takes creating conversations. He's using the most grounded of community institutions like houses of worship to help spread the message.

"Particularly if you look at Brooklyn, where you see a lot of our brownstones and houses are being transitioned. So how about partnering with our churches? Mrs. Jones is about to retire and move back to the south or to the Caribbean," Adams explained. "How come she can't have a young family right there in that church where they can have a partnership in four years when she's getting ready to leave. …It's bringing in all of our families and extended families to build Black wealth."

On the Beads He Wears Around His Wrist

Adams has been spoofed about his dapper style most famously on SNL , but has also said that he uses his look to communicate to his constituency. The beads often seen on his wrists are one of those unique aspects of his personality that looks sharp but has a deeper meaning. 

"When I ran for mayor, I went to Oman and Jordan. I spent a few nights in the desert because I knew that sand was the same sand and Moses and Jesus walked on," he said. " We may have transitioned, but our trees, our sands, our rocks, our stones, they have not been anywhere, they don't die and energies are in those items."

He explained that one set of the stones came from a visit to a former slave fort in Ghana and another set from India. "So, inside these beads and stones, the energy is never destroyed. It only reforms itself so I have the energy of those who reformed or transitioned."