So Rachel Dolezal Will Name Her Son After a Black Icon
The race faker just won't quit.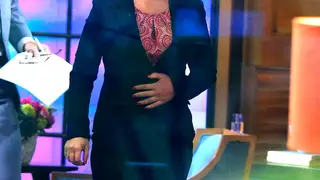 Saint West has been dominating the news cycle this week, but speaking of unusual baby names, Rachel Dolezal — who announced in August that she's pregnant — just revealed what she plans to name her unborn son: Langston.
"I'm naming him Langston because of Langston Hughes's 'Mother to Son' poem," Dolezal said on Monday. "Life hasn't been easy for me at all, but I keep going. I'm still climbing, so don't you sit down and stop. You keep going, and I want that to be a lesson for all my sons."
Hughes's poem "Mother to Son" is one of his most famous pieces and describes the struggle for equality. "Well, son, I'll tell you: life for me ain't been no crystal stair," the poem reads. "Don't you set down on the steps 'cause you finds it's kinder hard. Don't you fall now — for I'se still goin', honey, I'se still climbin', and life for me ain't been no crystal stair."
The profile, for Vice's Broadly, also describes Dolezal's unusual home: "a portrait of Pariah, the character in the Spike Lee–produced movie, over the fireplace; a drawing of the KKK chasing a Black girl above Rachel's bed; and a painting of her adopted son, Izaiah, as a baby next to the dining-room table. In the living room, a Langston Hughes poetry book lies on a chest."
Well, we gotta hand it to Dolezal: she just won't back down. Watch Rachel defend her identity on The Real, below:

(Photo: 247PAPS.TV / Splash News)