Here's Your First Look at Blac Chyna's 'Chyna Dolls'
Move over, Barbie.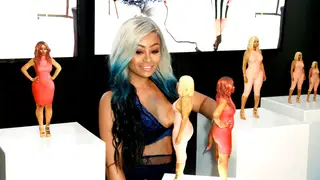 While it's looking as though Blac Chyna has dumped her boy toy, Mechie, nothing is going to stop her play and hustle!
Speaking of both, it looks like the mother of two is on to her next hustle — dolls. 
Just in time in time for Christmas, Black Chyna gave a sneak peek of her new doll collection, "Chyna Dolls," last night in LA. 
The reportedly 3-D printed dolls each feature Chyna's signature hairstyles, big bottom and even small details like her tattoos. 
While many on social media are perplexed as to why the former stripper would have a doll line, she is definitely getting a lot of attention with her new entrepreneurial venture in collaboration with MY3DNA.
Proud to announce her new endeavor, BC looked quite stylish in a custom made set by Dare To Be Vintage featuring crushed velvet and 3D flowers.
Although, we are not sure of the demographics for the line, we wanted to know what your thoughts about giving your daughter a Chyna Doll? Did we mention each doll is starting at around $75?