Bomani Jones On 'Game Theory,' Brittney Griner, and Creating Equity and Diverse TV
The new late night series with the Emmy-winning sports journalist debuts Sunday, Mar. 13, at 11:30 p.m. ET/PT.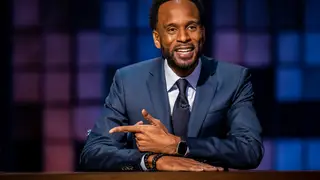 Bomani Jones is big time now.
But back when the internet was fertile ground for music artists and Vine comedians, the blogger and sports journalist was burning copy at places such as AOL Black Voices, eventually writing columns with the late, great Ralph Wiley at ESPN. His style was real, around-the-way, and full of colloquialisms that endeared him across the board.

And much like a highly sought-after player who only needs a few pieces to create a championship-winning formula, Jones has blossomed from a role player on shows like Highly Questionable and High Noon to an MVP with his own podcasts The Right Time with Bomani Jones and The Evening Jones. A Clark Atlanta University grad who would become an economist like his mother, this child of Atlanta and Houston would get his true calling with Game Theory, which HBO picked up for a six-episode run.

A mix of late-night monologues, skits, and topical commentary that features guest appearances (he's already tapped Stephen A. Smith, Dawn Staley, and Roy Wood Jr. to stop by) — Game Theory finds Bomani going from tradition host in front of a desk to becoming cooler-than-cool using barbershop talk to delve into serious topics such as racism for a 30-minute journey led by one of sports television's most unique minds.

BET.com was able to get a few ticks of the clock with Bomani Jones to discuss his brainchild, Game Theory, the lessons he learned while creating a series made in his image, and touch upon some of the hot button topics involving the WNBA's Brittney Griner and more.
---
BET.com: For those who have only been following your journey since ESPN, can you speak a bit about who you are and how you went from blogger to host of Game Theory?

Bomani Jones: I don't know if I ever stopped being a blogger, right. My approach has always been just do what you do, the opportunities will come, and then you make the best out of the ones that are directly in front of you. I've been doing this for about 22 years, now, where I went from being a freelancer — under the mistaken impression that freelance writers made a living wage [laughs] — and got a chance to write about music for all these publications.

I went on to graduate school, got my master's degree from Claremont Graduate University, and then went to the University of North Carolina after that in 2003. I went from writing for AOL Black Voices to working with the late, great Ralph Wiley, who had walked me up to ESPN's office. After we lost him, I stayed in touch with the company and with the site.

Eventually, I became a columnist for ESPN in 2006, then got into local radio, which went very well until the radio station got sold. From then on, once I returned to ESPN, I did a couple of TV shows, another radio program, and host a podcast now, which graduated me into this Game Theory thing with HBO.

BET.com: The way multimedia works these days, Bo, will you have a companion component to Game Theory like a podcast or a book?

Bomani Jones: As of right now, we haven't talked about a podcast or anything else. We've just been locked in right now on Game Theory. One thing I do know that is probably going to become part of the show is extra, bonus content. We have so much good stuff that we'll run the six-minute version on HBO but have the 13, 14-minute version on YouTube for the die-hard fans.

BET.com: Before Game Theory airs, you were also a correspondent with the legendary Bob Costas. Was there any game that he shared while working alongside him that you're applying to your own show?

Bomani Jones: They've been really kind in giving me access to the executive production of that show. I'm not an executive producer, but I do make a lot of the calls in the meetings. It is such a great group of real professional cats who have incredible levels of experience, and I am thankful to be amongst their ranks.

I learned a lot by being in those meetings and hearing the feedback they give me with my essays. And on top of that, to have Bob Costas is incredible. He's the guy, you know? He's had the best career in sports broadcasting for the last 50 years. There's no question about that — and for him to want me on his show is a really, really, really big deal!
He's been extremely helpful with the essays I've written and given great suggestions on how to build a team that is optimized for success. Having the chance to work on that show has been fantastic!
BET.com: Your Game Theory team is also solid as you've brought along some longtime compatriots and worked in an element of family into the show. What has it been like to be more hands-on with this show? Also, speak to how it feels to gain some equity with Game Theory?

Bomani Jones: I'm not always the best person when someone asks me what do I want [laughs]? I'm accustomed to taking an opportunity when I can get it and making it happen the best way possible. And when it comes to television, everything that I've done, well, all of the heavy lifting was done above me or done before my arrival.
[With Game Theory,] it is all in my voice and people want to know what I think about how it is going to go and be molded. I had to turn on parts of my brain that I don't think I've used in 10 years [laughs]. The nature of my work before Game Theory was to get up and react to what was going on in the world. I didn't necessarily have the time or the runway to do more than that. Now, I have all of the time and runway to come up with stuff and I really had to figure out what sort of TV show I wanted Game Theory to be like.

From how it would sound to how it would look like, it was a team effort led by me, and I think that it will resonate with audiences that this show is a reflection of me and how I wanted it developed. As far as equity goes, I've always felt like I had a stake in everything I've been a part of. I had equity in [ESPN's] High Noon, I had equity in Highly Questionable, and even with the podcast I'm doing, I have equity in that.

Being in charge or an entrepreneur, man, that stuff is overrated [laughs]. I don't mind not being in charge of the direction, and [being an entrepreneur] comes with a lot of stuff that you don't actually feel like doing. If you could get that kind of money that comes with the work without the stress, most people would ultimately do it. But [with Game Theory] I have found it to be gratifying under these circumstances.
To be in a position to oversee and watch how all of these things come together has been an amazing experience. The questions that I have to ask, which all surround the thought of is this actually going to make it better, has been a learning process for me and are new at that.
BET.com: Was there anything else you discovered about making your own TV show that you didn't know before that helped you to align your vision with Game Theory's topical nature?

Bomani Jones: I didn't have a great grasp of what was possible [when developing a series.] So, the idea that I could conceive something, a person would add notes, and then in a few months, that whole thing would be built out in 3-D. There's something in our first episode that was done along those lines. What I am learning with Game Theory is that if you can think it and say it clearly, someone is actually able to make it happen.
BET.com: From knowing you and your story to witnessing Game Theory coming into fruition, Bomani you have always remained ahead of the curve. The show itself is topical in nature, so let's get your thoughts on some current news happening today. First up, what is your viewpoint about WNBA star Brittney Griner's situation and the reactions/responses from the league and the Phoenix Mercury?

Bomani Jones: First, I'm trying to figure out how she has been in jail for almost a month and nobody knew anything. We only found out when [Vladimir] Putin told us. To me, that is really the most amazing part of that whole situation. Obviously, though, the crime does not seem to fit what is going on, but I cannot figure out exactly what's going on.
There's so much mystery to all of this that I find it funny that the news is trying to get out ahead of this to figure out what agenda-driven direction they want to go in. I think we're still in the fact-finding phase of what exactly has taken place here. You can't make it an issue like if the WNBA pays its players more money then they wouldn't have to go over to Russia to play in the first place.
It's not that cut and dry. Even if they were paying players, say, $2 million a year and the Russians were paying $1 million a year — somebody is still going to go over there and get that extra money that's on the table. Changing how the players are paid wouldn't fix the love for the game and the extra money that can come from it. Think about baseball players from the Dominican Republic who leave the U.S., go down there, and play ball all winter after competing during the whole MLB season.

That's not what's going on here, but I think that when there's bread on the table, athletes will consider going after it. People nowadays are so quick to push this in an agenda-driven direction that we all need to look up and realize — at least for me — that we don't know what's going on. I don't know what the WNBA, Brittney [Griner], or the [Phoenix] Mercury are supposed to do. Like what? Should they send over Delta Force and call Chuck Norris to break her out of jail? I have no idea.
BET.com: Speaking of the MLB, they're currently in lockout mode and there are concerns that it would influence the NBA to address its own labor issues as well. Could you become Bomani-stradamus and foresee if the NBA can circumvent this to not have a lockout season possibly?

Bomani Jones: The lockout is the decision of the owners, to be frank. That's the part that we have to keep in mind. If they think that that is going to be the play for them, then that's what is going to happen. The thing with baseball though is that it is a different union with a different set of people who are living under different circumstances.
The NBA players, and to a certain degree, the NFL, too — has a separate issue altogether as the top and middle of the labor chains are completely different. All of their unions are difficult to maintain, but the baseball union is the most gangster of them all because the owners hold all the cards in that situation. For the NFL and NBA, the timeline for careers is too short in the former and the guys with the most influence in the latter are the least representative of the rank and file in the league, so it'll always be tricky for the owners to do what the MLB has done with its players.

BET.com: Last question, Bomani. We are easily in a strong renaissance for Black television and film. With Game Theory premiering on HBO Max, why should audiences tune in, why do you think the show will be successful, and what do you want it to add to the conversation about more diverse TV?

Bomani Jones: If you want to see somebody be honest about what they see before them, then Game Theory is the show for you. I'm not going to talk over your head. I'm going to talk directly to you. I'm going to tell you exactly what it is that I think. And if something is funny, I'm not going to pretend like it's not [laughs]. If something is not important, I'm not going to pretend like it is. I'm going to give it to you the way that I got it [and] that's something I can always assure audiences of when they watch Game Theory.

As far as success goes, I'm not sure what that is to me with this [series.] I do know it is something that I feel and not so much of a checklist. A lot of this will be outside of my control. What I can do is put together a show that I enjoy. I'd like for the audience to enjoy it [and] there'll be some objective measures that share whether or not something is a good show, but I'd like to make a show that earns the respect of people that I respect.

Once it gets diffused below that [then] it is hard to tell exactly what [success] means. Ideally, I'd love for Game Theory to be a show that affects people [and] I think it can probably do that, but ain't none of that is going to happen just because I say it will [laughs]. And when it comes to diverse television, none of us are going to excel our way out of racism. It's just not going to happen that way. It's not how it works. It's not even like we haven't ever not had a good show done with a Black person before, we've seen economic evidence that Black people are willing to consume these shows that feature characters who look like them.
The way that HBO is promoting this and the way they view the show is that Game Theory has some heat over here. This show isn't going to serve an agenda or signal about what kind of company HBO is. You get a feeling when that is what somebody is doing, and I'm not saying it would be wrong if there are moments where that happens on Game Theory. But I'm just saying that what we have going on in lieu of all of this diversity is worth your time and attention.
---
Game Theory with Bomani Jones airs weekly on Sunday nights at 11:30 p.m. PT after Winning Time and Last Week Tonight with John Oliver.
Kevin L. Clark is a screenwriter and entertainment director for BET Digital, who covers the intersection of music, film, pop culture, and social justice. Follow him on @KevitoClark.