Brittney Griner Reportedly 'Very Worried' That She Will Not Be Released From Russian Prison
The WNBA star has been convicted of drug smuggling.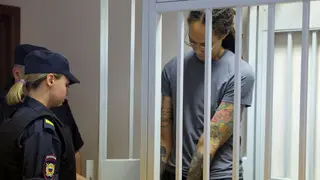 WNBA champion and international basketball star, Brittney Griner remains imprisoned in Russia for drug smuggling. With an appeal hearing only 11 days away, the WNBA star is reportedly losing hope that she will be released.
According to USA Today,  Alexandr Boykov, Griner's lawyer, said, "She is not yet absolutely convinced that America will be able to take her home. She is very worried about what the price of that will be, and she is afraid that she will have to serve the whole sentence here in Russia."
Boykov added the 31-year-old Olympic athlete "suffers a lot without her family because she hasn't seen them for so long and it's very difficult to talk to them in any way."
During an Oct. 6 interview with Gayle King on CBS Mornings, Cherelle Griner, Brittney's wife,  said she fears Brittney could be moved to a labor camp if she is not released before her appeal hearing on Oct. 25. Russian labor camps have been described as "notoriously harsh." However, former U.S. Ambassador to the United Nations Bill Richardson, who runs The Richardson Center for Global Engagement, which negotiates prisoner and hostage releases, told CNN he felt "cautiously optimistic" that Griner could be released before the end of this year.
Griner, who had been playing for UMMC Yekaterinburg in Russia, was arrested on Feb. 17  by the Russian Federal Customs Service at Sheremetyevo Airport near Moscow. Agents said they found hashish oil vape cartridges in her luggage. According to The Washington Post, she was charged with transporting a "significant amount," or 0.702 grams, of cannabis oil. Griner's arrest came amid tension escalating over Russia invading Ukraine.
Griner pleaded guilty but argued in court that she did not intentionally put the cartridges in her luggage and packed them in haste. In a written statement, her defense presented evidence that she had been prescribed cannabis to treat pain. On Aug. 4, the WNBA star was convicted and sentenced to 9 years.