Summer Walker Releases 'Clear 2: SoftLife,' Opens with an 'Audio Hug' from J. Cole
The project features verses from Childish Gambino and J. Cole.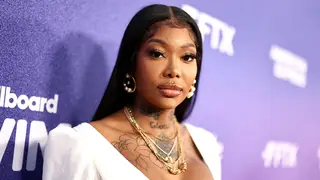 After teasing the tracklist, which featured the likes of Childish Gambino and productions by Solange, Summer Walker's new EP Clear 2: Soft Life has arrived.
The 9-song project, totaling 28 minutes and 8 seconds, opens up with words from rapper J. Cole in the track titled "To Summer, From Cole - Audio Hug." The "No Role Modelz" emcee delivers a beautiful verse applauding Summer's ability to juggle her career and motherhood, all while in the public eye.
The EP also features a rare appearance from Gambino, who stepped away from his busy television schedule for a song titled "New Type," where he argues, "I know I'm ugly, but I'm interesting" in his quest to keep his girl.
Solange, Steve Lacy, and John Kirby have all been credited as producers on the project's final track, "Agayu's Revelation," where Summer admits to making people in her relationship "crumble into dust."
Veteran fans of the singer have been praising the project on social media since its release on Friday, including one Twitter user who joked, "Summer Walker got me pissed at a baby daddy I don't even got lord Clear 2 is special." Meanwhile, others warned curious listeners, "Yeah, summer walker did NOT make this album for y'all Over It stans. This is for the OG's."
Clear 2 marks Summer's first full-length project since her 2021 release, Still Over It and serves as a follow-up to her 2019 4-song EP, Clear.
Check out the full tracklist down below.
1. To Summer, From Cole (Audio Hug)
6. New Type (f. Childish Gambino)
9. Agayu's Revelation (prod. by Solange, Steve Lacy & John Kirby)