Horrific Video Shows Speeding Car Slam Into Man Attending Vigil For Another Hit And Run Victim
Los Angeles police officers are now looking for two drivers involved in similar incidents.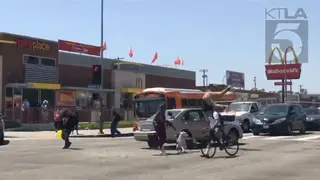 On Wednesday, a pedestrian was hit by a car and went flying through the air while they were attending a vigil for a cyclist who was killed in the same location by a hit-and-run driver just a day earlier.
In a graphic video obtained by KTLA, pedestrians and cyclists were gathered at the Los Angeles intersection in remembrance of Frederick Frazier, 22, who was killed after being struck by the driver of a white Porsche Cayenne.
Nearly 100 cyclists and pedestrians were attending the vigil, which angered some drivers who had difficulty making their way through the intersection. At one point, an older-model gold Toyota sedan tried to push through the cyclists.
As the Toyota attempted to move through the crowd, some cyclists appeared to punch at the car. The vehicle eventually left but returned soon after only to speed through a red light and hit a pedestrian.
Warning: The video below is graphic.
The KTLA news crew at the scene recorded video of the crash.
The victim, who was a friend of Frazier, was thrown in the air but was able to get up and make his way to the sidewalk.
The LAPD is asking that the woman driving the Toyota turn herself into police.
"We're asking for that individual to go to the police station ... identify themselves and tell us their side of the story," LAPD Captain Ramirez told KTLA.
Police are also still searching for the driver of the Porsche that killed Frazier.