Guess Who's Back: Rob And Chyna Are Being Sued By Someone From Their Past
The person is claiming they were bullied.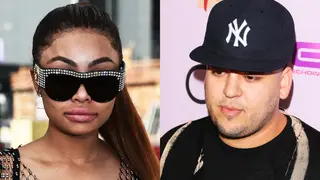 After going at each other's throats in court over the custody of this daughter Dream, Blac Chyna and Rob Kardashian are finally on the same side as one of the model's exes has slapped the two with a lawsuit of his own.
According to TMZ, Pilot Jones claims in his suit that the former couple bullied him to the point where he contemplated suicide.
He is reportedly suing Rob and Chyna for defamation and cyberbullying, claiming they blamed him for selling the picture that showed him making out with the model, outed him as gay and released his personal contact information to the public.
He claims that once the former couple allegedly leaked his cell number, he began receiving threatening messages from strangers, with a couple reading, "You're a f*****g snake for doing that to Rob & Chyna," and, "Today will be the last day of you walking b***h."
Jones also fully denied that he released the photo, himself, and firmly stands by the fact that he is not Chyna's baby daddy when an outlet contacted him about the photo. He also pointed out in his suit that the threats were reported back in October 2016.
He added that the threats and bullying "destroyed his self-esteem," pushing him to attempt suicide and lose hope in restoring his respect with his children.
Get more Chyna and Rob news with BET Breaks, above.