Here's Your First Look At Kim Kardashian And Kanye West's Daughter Chicago West
She already bears a resemblance to her siblings!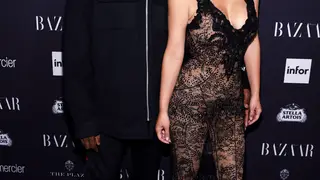 It looks like Kim Kardashian and Kanye West were just bested by a paparazzo who captured and released a photo of their newborn daughter, Chicago, before them.
According to TMZ, Kim was spotted out with the little one visiting the pediatrician, making it the apparent first glimpse the public is seeing of her face — sort of.
Kim was pushing her in a stroller with a nanny and bodyguard close behind.
Chicago is currently a little under three weeks old.
It was reported earlier that the couple has chosen not to sell any photos of Chi to the press as they want to control when the first images get out on their own.
Take a look at the grainy photo below: