Judge Faith Jenkins And Kenny Lattimore Announce The Birth Of Their First Child Together—See Their Baby Girl's First Video!
The married couple wrote heartwarming social media posts celebrating the birth of their daughter.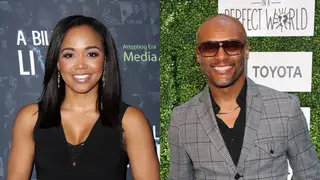 Congratulations are in order for singer Kenny Lattimore and Judge Faith Jenkins, who recently welcomed their first child together!
The couple announced the birth of their baby girl on Monday (Jan. 23) with a heartwarming reveal of their newborn daughter's hand.
"Welcome to the world Skylar Leigh Lattimore! Last week our precious baby girl made her debut. And just like that life has taken on a whole new meaning," Judge Faith captioned a family video on Instagram.
The new mom went on to share her appreciation to her husband for being a strong support system during her pregnancy journey.
"@kennylattimore, the last nine months you have supported me in all the ways I needed it most — I watched you juggle a lot with your schedule & you somehow managed to balance it all," she wrote. "If Skylar ever wants to know what true love looks like, she will look no further than you."
Judge Faith continued, "Thank y'all for ALL the prayers and well wishes. Skylar is healthy, I'm recovering lol, and we've been soaking it all in. I'm a mom now...so many emotions & feels so surreal."
Kenny posted the same video on Instagram, along with a caption that celebrated his wife.
"Faith, I marvel at your strength and resilience and am so happy our daughter has you as her guiding light in life. You are going to be the most incredible mother to our Skylar. Just like in this video I think she'll always instinctively know you're just a finger grab away," he captioned the post that celebrated the birth of his baby girl.
Aww! There's no question Baby Skylar is surrounded by love and support. Congratulations to the pair on their new addition!