Health Hero: Healing Our Bodies One Recipe at a Time
Nathalie Thandiwe's cookbook and work encourages us to eat more plant based meals.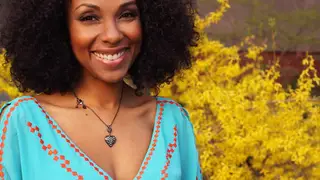 We know that we need to eat more fruits and vegetables and less processed foods and meats. But it's easier said than done. It also doesn't help that we are bombarded with processed foods in grocery stores and fast food restaurants saturate our neighborhoods. And while these foods may taste "good," our health suffers.
BET.com sat down with Thandiwe to talk about her cookbook, debunk myths about this diet and why eating a plant-based diet doesn't have to be bland.
What inspired you to write the Yummi Cookbook?
First, I am a trained herbalist and part of what I do is use plants to help people heal. But I saw that the herbs cannot really work if people are still eating poorly.
And my clients wanted to eat healthy, they just needed help. So I started showing them how to cook a few meals. And they were like, "If all of my meals tasted like this, I would eat healthy more often." And the more clients I taught, I realized that I was saying the same thing over and over again. And it hit me, I need to out this all down in a book.
Also during this time I realized that I was allergic to wheat and so I wanted to incorporate recipes for people who suffer from a range of allergies too.
A lot of healthy recipes are so bland. Why was it important for your meals to be delicious?
If you are going to spend $10 on a smoothie, it better be poppin' and if it's not, that's a problem. I believe that food should be phenomenal every time you sit down to eat, if not, then I can just sit with an IV drip to get nutrients.
Most important, my recipes are affordable. Nothing's worse than spending $100 on ingredients for some new organic recipe and it tastes horrible. My meals are $2 or less per serving and have ingredients that are not over the top.
Why is eating more of a plant-based diet so important to our health?
Really we were meant to eat this way. Plants provide us with so many nutrients and energy, but we are dealing with a food system that has been disrupted with processed foods for so long so that when we say "plant-based diet" it sounds so mysterious, and it shouldn't be.
Our grandparents often had gardens and they shared their food with others. Yes, we would see fish on their plates, but they mostly had vegetables on it too. But over time, all Americans' diets changed into eating more processed foods. But when we look at racial health disparities, African-Americans are more vulnerable to chronic diseases such as high blood pressure, stroke, heart disease and diabetes. And when it comes to how to reverse and prevent these illnesses it comes down to our diets.
Do plant-based diets mean vegan and/or vegetarian?
No. And thinking that it does can either excite people and they try to go vegan and vegetarian for two weeks and quit or they're just turned off by it. With a plant-based diet, you don't have to eliminate fish or meat — I still eat meat. You just have to make veggies the majority of your meals. And try to eat one to two meals a week that are meat-free. With this flexibility you are more likely to be successful.
Finally, what's your advice to our younger readers on incorporating more plant-based meals into their diet?
For the ones who are old enough to control some of what they eat, start with your snacks and hydration. So try veggie chips, an apple or a banana, and try to drink more water and try to limit juice to one serving a day.
But really this is a larger conversation where adults need to be engaged in food policy and wanting healthier foods in schools and at home. We need better education about nutrition in order to know how to shop and eat differently. And most important, we have to learn how to cook food healthier. We can have healthier collard greens by sautéing them in garlic and olive oil. We can make homemade French fries at home that we bake or brown in a skillet.
Learn more about the Yummi Cookbook and take a peek inside the book here.
BET Health News - We go beyond the music and entertainment world to bring you important medical information and health-related tips of special relevance to Blacks in the U.S. and around the world. Click here to subscribe to our newsletter. 
(Photo: Nathalie Thandiwe)