This Photo Has Everyone Convinced Tamar And Vince Are 'Back Together' And Their Divorce Was All For Ratings
Interesting.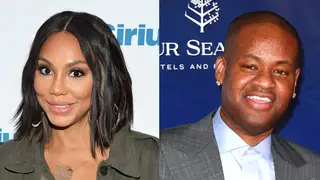 Tamar Braxton and her estranged husband Vincent Herbert have been detailing the moments leading up to the R&B singer's divorce filing on a weekly basis through their WEtv reality series Tamar & Vince.
While the "My Man" crooner has went on record saying that she's completely secure in her decision to end their nearly nine years of marriage, recent photos have some believing that the two are back together and only advertised their "divorce" as a ploy for ratings.

Get more Tamar and Vince news with BET Breaks, above.

RCN reported the highly questionable claims that the two "have made peace and are getting back together," as they were allegedly spotted together at The Great Xscape show as shown in a grainy photo posted to their site.
We're giving this report a major side-eye as this may not be a booed up moment between the two as Tamar is still currently serving as an act on the tour and Vince may just be fulfiling his managerial duties, though he was recently rumored to have been fired by the singer.
Despite these reconciliation rumors, on tonight's episode of Tamar & Vince, fans will see the singer confide in her friend and tour-mate Tameka "Tiny" Harris, telling her that she is ready to physically move out of her family home with Vince.
"I'm not moving out to be malicious," she told her in the clip. "I'm moving out to help our relationship."
Take a look at the clip, below:

The episode airs tonight, December 21, at 9:00 p.m. EST on WEtv.