Lola Brooke Is Brooklyn's Next Up
The Bed-Stuy rapper is redefining what her native borough is supposed to sound like.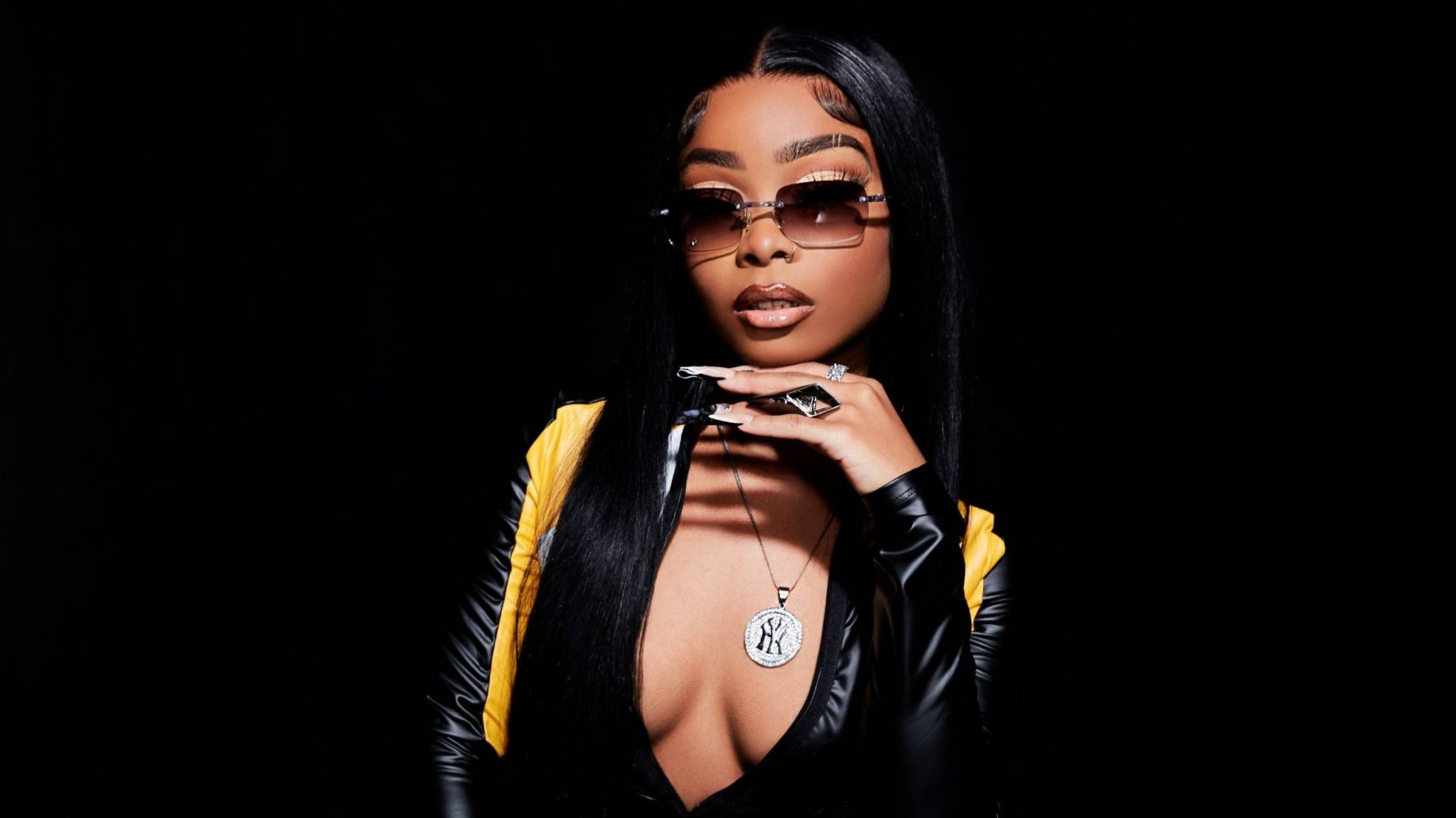 "I'm small, and my voice is big" is the perfect self-description of Lola Brooke.
The Brooklyn-native rapper is petite in stature, but don't let that fool you. She packs a hardbody bite in her music and can go toe-to-toe with anyone out right now from her borough.
Hailing from Bed-Stuy, Brooke isn't what many consider your typical BK-sounding artist on the surface. At first listen, many may think she's from Detroit with much of the music she's already put out having a heavy Motor City bounce to it rather than the rolling 808s that come with drill.
But it's the heavy accent that gives it away seconds later. Well, that, and perhaps her unapologetic nature that creeps into every song and/or video release. Take her viral, smash hit "Don't Play with It." While it's rather short for a breakout viral hit, none of the 2:24 minutes it occupies wastes a second when delivering a message.
The video for the single is also classic NYC, with its performance shots inside bodegas, outside on the block with motorcycles, and the whole neighborhood out for the party. It's an intimate look into what exactly Lola represents.
During a recent interview with BET.com, Lola Brooke explains how where she's from is pivotal to her musical makeup.
"Brooklyn itself is a big thing for me. In Brooklyn, they say that we confident. We love to tell you that we from Brooklyn and we're like really proud Brooklyn natives. So I'm so proud to be from Brooklyn that it's like I'm just the ordinary Brooklyn girl," she explains. "So I'll put it in my music because that's how I know how to express myself. I'm growing up around older people that's around and I'll see how they express themselves through they fashion, the way they talk, what they eat. So I just put it into my music and use it as a weapon."
Brooke is also a student of the game, which is why she chooses production from all over the country, including the Midwest. It's something she's proud of and gives her extra perspective in her music.
"I like to be unpredictable," Brooke says. "The thing with me is I study music like it's homework. There is such thing as studying the music, so when I was going through beats, I knew that I had a strong accent, so I sit there and say to myself, 'Oh, the beats that they think that I would do, I don't want to do,' because that's just the ordinary. So I tap into other things like the Midwest, West Coast. I like those types of beats because my accent – you wouldn't expect me to rap the way I rap, you expect always to hear the same cadence that you always hear. So I like to step out the box so that it can make me look more vibrant."
"Don't Play With It" also features fellow Brooklynite Billy B – a close friend of Lola's who was pregnant, not long before the pair dropped their joint viral hit. Looking out for Billy was extremely important for Brooke, and added an extra layer of authenticity to a record that was already very pure.
"I always made sure that I kept my eye on Billy because I felt like she was someone like me. I never really got to meet another female artist that I can relate to. So I was looking for her because she was missing and I know how it is as a female artist – [you] get discouraged, it's a lot of opinions going around. I just felt something. This girl was having a baby," she recalls.
"We from Brooklyn, we got to come outside, we got to do what we supposed to do," Brooke adds. "I sent her 'Don't Play With It' to get on it and it's crazy because I didn't really think anything of it. I just wanted us to work and wanted her to feel good and know that she's not in this by herself."
As far as inspiration goes, Brooke cites Meek Mill as a major influence on how she raps, which makes sense due to both their gritty, in-your-face lyrical style – mixed with a persistent cadence that pushes the envelope of what it means to be a rapper not to be messed with. She also explains how both Eve and Missy Elliott played a big role in her hip-hop upbringing.
According to Brooke, she wanted to be a rapper ever since she was a child, and those women, specifically, made her want to be a part of the culture.
"When [Eve] came out with 'Love is Blind', as a young girl and me watching it, it was alarming. I was like, wow, this is what's going on outside," she explains. "And then my mom was actually going through a domestic violence situation with my dad, so when I was trying to understand what was going on with my mom, and I actually saw it on TV, I got a glimpse of how it could have been, and it touched me."
Brooke adds: "That's one thing, expressing yourself and always making sure people understand what women go through every day. With Missy, she was just herself, it was so unapologetic. She didn't care when nobody thought about her. She didn't care to be weird. It was just so creative."
Since Lola Brooke's music has gone viral over the past few years, many of the biggest in hip-hop have cosigned her, including Cardi B, City Girls' JT, Latto, and Saucy Santana, among others. And while she appreciates the support, she says it's only the beginning of her potential in the rap business.
"I always say, it is cool to have co-signs, but don't let a co-sign make you feel like, oh, because they said this, that's how I know I'm great," Brooke explains. "When you get a cosign, it should be like this person thinks I'm dope as well. That's how I look at it. It is dope because basically, it's saying, hey, I'm already in a game, I know what it takes and I believe you can do it as well. So it is a big push for sure."
In 2023, Lola Brooke says she wants to do more shows and even be involved with a possible tour. As for new music, expect a full project from her. No release date yet, but keep checking.
"I don't know when, but you will definitely project from Lola Brooke," she notes. "I promise."
Stream Lola Brooke's music here.